How to find real DevOps, look for binary artifact repository control
DevOps (as the coming together of both the 'developer' and IT 'operations' functions) has been unfortunately propelled upwards by the force of the technology trigger and driven onwards towards the peak of inflated expectations (to coin a phrase from Gartner).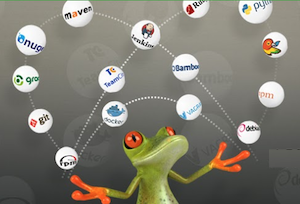 As Gartner would now warn us… the so-called trough of disillusionment is the next logical stage.
So is DevOps heading for a fall?
The problem with DevOps is that tangential ancillary IT vendors have sought to nail their worthy-in-their-own-right technologies to the DevOps mast as a tactic to:
• Hype the PR cycle for their own brand
• Follow current tech trends
• Get 'developer-centric', coz that's always good
• Some other less than valid spin-related reason
This level of insubstantial peddling has led us to a natural level of apprehension when we hear about DevOps today.
JFrog is a firm that (by most people's yardstick) does what we can arguably call real DevOps i.e. its Mission Control product exists to accelerate software delivery with monitoring and management functions over all binary artifact repositories.
Binary artifact repositories
NOTE: By way of definition — binary artifact repositories (and binary artifact repository managers) are elements of software designed to manage, look after the version control of and ultimately store binary 'artifacts' i.e. those parts (models, use cases, diagrams) software that describe and denote functions (and architecture form) of software.
Tough road to cloud scale
JFrog claims that it has "discovered" a common set of issues that tends to bog down software development and DevOps teams as they scale up to thousands of developers and engineers in multiple teams leveraging multiple datacenters around the world.
These issues include:
• maintaining a clear real-time inventory of binary artifact repositories;
• managing binary artifact workflows among multiple global teams;
• locking down security, user entitlement, permissions and provisioning policies;
• and ensuring highly reliable storage of and access to artifacts.
With the thousands of binaries that often go into a software release and the explosion in binary artifact types, monitoring and managing each binary repository separately has become a huge challenge.
JFrog says that Mission Control saves time and effort with a unified dashboard-view and centralised control of binary artifact repositories.
JFrog CEO Shlomi Ben Haim says that, "JFrog's vision is to fill a critical need by providing an executive dashboard providing transparency into their global software development organisations based on the reality of builds, releases, distribution and consumption of software packages."
JFrog Mission Control is a downloadable product, offered free of charge for JFrog Artifactory users — a Universal Artifact Repository, which manage all binary artifacts regardless of the programming language or technology used to create them.
"It combines high availability, a secure Docker registry, npm repository and support for Maven, Gradle, Nuget, Yum, PyPI and other technologies," said Ben Haim.
He continues, "JFrog's Bintray gives developers and organisations full control over how they store, publish, download, promote and distribute software with advanced features that fully automate the software distribution process."
A DevOps spin test
Next time you look at DevOps news, look for functions like quantifiable tasks metrics, call stack analysis technology or binary artifact repository control… the rest of it might be trying to spin you round.