How can humans navigate 2.5 billion gigabytes of machine data a day?
IBM's software intelligence promotion du jour is focused on transforming how organisations engage with "business content" and make it more usable.
Business content?
Could a more generic and meaningless term be possible?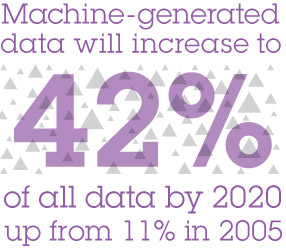 No no wait a moment — this terminology often refers to big data machine-generated data — that portion of information defined as that created automatically as a result of a computer process, software application process or other machine — without the intervention of a human.
What IBM is doing is to offer new big data services on its IBM Cloud marketplace via any browser, desktop and mobile device
2.5 billion gigabytes of data
The company estimates that 2.5 billion gigabytes of data are created every day, and 80 percent of that data is comprised of unstructured content such as Tweets and posts to social media and all manner of contracts, claims forms and permit applications.
So what does IBM have cooked up?
IBM Navigator on Cloud is built on Softlayer's Cloud platform and works with the firm's own Enterprise Content Management (ECM) capabilities that have been proven (says IBM) in "regulated environments" for file sharing application security.
Can we have an example please?
Okay for example, a maintenance worker in the field can use a mobile device to pull up the latest schematics for a piece of equipment, take photos of a damaged part, make updates to a safety document based on a repair, and synchronize this content back to the cloud making it instantly available to colleagues on desktops or mobile devices. Or, a human resources manager can work on sensitive policy and procedure materials that need to be reviewed and approved by employees in several locations. Built-in mobile content management capabilities provide authorized users with secure access to manage business-critical documents and provide feedback in real time.
"IBM is fulfilling an unmet need in the marketplace by providing a new service that combines enterprise grade security, governance and integration with mobile and web apps that are easy to interact with and use," claims IBM's ECM manager Doug Hunt.