HP's Mårten Mickos on Eucalyptus & cloud: in unambiguously Finnish terms
Okay so we called out (now ex-) Eucalyptus CEO Mårten Mickos for changing his stance on OpenStack and his move to join HP as senior vice president and general manager of its cloud business reporting to Meg Whitman — but what did Mickos have to say for himself?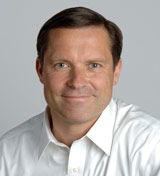 Many media channels (including this one) jumped on the immediate news with commentary resonating around:
a) Mickos' newfound affection for the OpenStack open-source cloud computing software platform.
b) HP's rebranding moves (in May 2014) with its cloud services stack now bolstered by new products and sat under the product family name HP Helion.
c) Some of the wider disquiet felt throughout the open standards cloud industry a the moment outside of HP's sphere.
Alkaenhevosen suusta
But what the story from Mickos himself, from the horses mouth in unambiguously direct Finnish terms (or — alkaenhevosen suusta — as he might say in his native Finnish) then?
Yes Mickos does that vendors spokesperson thing and has been well trained to repeat customers, customers, customers — but this is a guy who has touched code and reminds us of his first startup company with two college buddies, which was an operation focused on client/server software development.
In 2001 he was invited to join MySQL as the CEO and got his hands dirty with the LAMP (Linux-Apache-MySQL-PHP/Perl/Python) stack — and then it was Eucalyptus and the rest is history.
Today in 2014, Mickos talks on the HP website saying this of the cloud:
"Today we talk about public and private and managed and hybrid clouds as if they are all distinctly different. In the future we may treat them as providers to the same need. We will have application workloads that can migrate to whichever environment provides the most suitable environment for that moment. Our old thinking of 'this app runs on this machine'will be entirely outdated."
In an official blog on the Eucalyptus website he says that his team nurtures three key dreams that drive its behaviour:
1. To make open source win in cloud infrastructure environments.
2. To enable effortless application workload mobility between private and public clouds.
3. … and to deliver what he calls "complete" clouds.
As generic and big picture (and arguably vague) as point #3 is, it may be the most telling because he clearly views cloud not as the notion of outsourcing compute cycles and storage — it HAS to do more now.
Leaving aside the "we are honoured and HP is lovely" elements, Mickos does says that cloud should thought of as both:
• an IT architecture and…
• a way to build and deploy your own cloud
"Just like you may brew your own coffee or go to a café to let someone else do it for you, you must be able to run your application workloads on your own hardware or on someone else's. That's what customers are telling us, and we are now seeing enterprises increasingly deploy their own clouds," he said.
We're know you're sailing on the big ship now Mårten, but keep it technical and keep it real please.