Dubai programmers show self-sufficiency in mobile app development
Developer-centric attention is perhaps all too often focused on the code, commits and contributions emanating from Burlingame (next to LAX airport), Berkshire and Bangalore.
But a vibrant ecosystem of software application development activity is also bubbling in the UAE, with the country's programmer community focused especially closely on mobile apps in both English and Arabic language versions.
Self-sufficiency is the watchword for developers in this region; where resources are not available (for whatever reason), local dev shops appear to have rebuilt from scratch — surely giving their Western counterparts a lesson in proactivity?
Web developer M. Saleh Esmaeili of Dubai-based company 'dots & lines' is the product lead behind Carbon, a Twitter client for webOS devices.
According to the product's official literature, "Carbon was initially developed because the developers behind it could not access paid apps in the HP App Catalog from Dubai. What started as a need is now one of the most prominent, respected and loved Twitter clients on webOS in under six weeks of its Beta release."
Currently available for Palm Pre/Pre+/Pre2, Pixi/Pixi – Carbon maintains a position of being a webOS app first, and a Twitter client, second.
As a Twitter client, most of the app features are accessed within two taps or by just flicking your way around the GUI. Advanced gestures such as Power Scroll and webOS-only features such as #Hashcard are some of the features in Carbon that were firsts for webOS and Twitter clients.
Given the UAE's reputation for rapid growth and development, perhaps we should be eying this market for closely in terms of its aptitude for mobile software application development?
A suggestion I think that is further compounded by the recent TNS Mobile Life research study, which found that Saudi Arabia has world's highest smartphone penetration at 86% / population, UAE follows with 75% and Singapore is third at 72%.
British-born UAE IT industry commentator and broadcaster Alexander McNabb has said that, "Mobile applications are starting emerge from regional developers and we are seeing significant growth in the innovation not only of developers in the UAE, but in Egypt and, in particular, Jordan – which has a small but strong IP creation industry."
"The Middle East is a fast-moving, vibrant mobile market and the GCC, in particular, displays very strong rates of adoption of new technologies. Paid apps are still hard to come by here, with many global content and application providers such as Amazon, Apple and the Android Market choosing not to sell paid content and apps and this will only foster faster growth of home grown applications," added McNabb.
The region itself has recently witnessed the Planet of the Apps Arabia 2011 conference and the Apps Arabia programme, which is described as "An exciting new initiative that creates unprecedented opportunities for everyone involved in the development of apps in The Middle East & North Africa."
Time to think twice about how you plan your next business trip to Dubai perhaps?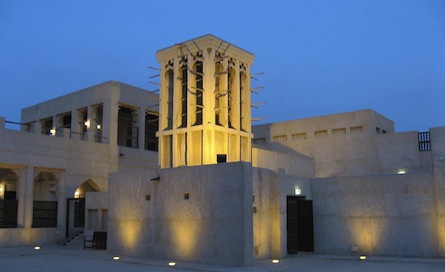 Dubai's innovation heritage, so-called "wind-towers" pre-date modern air con – and they're cheaper and better looking too!