Does Windows 8.1 Update have usability, at last?
The great and the good among the software application development coding community were invited to Microsoft's Build 2014 conference in San Francisco last night.
The Computer Weekly Developer Network was fortunate enough to attend a series of London-based briefings detailing much of the same information.
We had the Windows 8.1 update (lower case) back in May 2013 — so this instead is Windows 8.1 Update (CAPS) — and the distinction is important.
We have known about the forthcoming next build of Windows from as far back as January of this year due to a number of leaks — initially, our interest has been focused on Microsoft giving users first and then manufacturers the ability to ship machines that boot directly into native desktop mode.
This action eludes to part of the deeper problem Microsoft has had with Windows 8 i.e. slapping full screen apps at desktop (and laptop) users who do not want what is essentially a "tablet experience" on their keyboard-driven machine.
NOTE: As an example, Microsoft's full screen Skype is "snappable" into a quarter of the screen, but is still arguably too intrusive — the native desktop version is thankfully available.
It is after all called Microsoft WINDOWS — not WINDOW.
But has Microsoft got around this problem now and does Windows 8.1 Update have real user usability?
The shorter answer is yes, it might well have.
Of course this would be quite a hard trick to pull off. That is to say … can you imagine Microsoft unveiling a so-called "more converged platform" across desktop, phone and 'other', yet still managing to fix user interface usability for (mouse and keyboard using) desktop users at the same time?
So here's the money shot…
Key features of the Windows 8.1 Update include the ability to access the taskbar from any screen and pin Windows Store apps to the taskbar alongside desktop apps and favourite websites.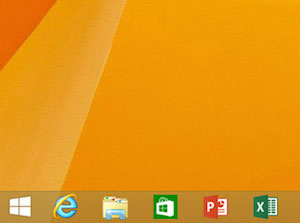 What this means is: if you find yourself constricted inside a full screen app on a desktop and want to change what you're doing, you can pull your mouse downwards to the bottom of the screen and identify all your open apps and switch between them pretty easily.
To add to these "why didn't they do this in the first place" improvements, Microsoft has also added a POWER DOWN and SEARCH icon right in the top right hand of the Windows tile home screen. The option to power off via the desktop "new start button" still exists.
Spotlight or Search?
So that Metro SEARCH option button (ok sorry, we're not allowed to call it Metro anymore) then, is that a good idea?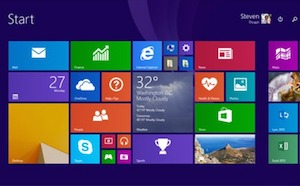 Yes of course it is, it makes search much more accessible and it works a lot like Spotlight in Apple's OS X — so should that be a surprise?
Computer Weekly Developer Network reporting staff last attended Microsoft Build 2004 (it was called PDC back then) and comments were made at that time about "natural migration of features between competing operating systems" and, in fairness, that's what natural selection is all about so we see no reason to criticise Microsoft for this transmigration.
Going a little deeper here, Windows 8.1 Update aims to offer improved Internet Explorer 8 compatibility on Internet Explorer 11.
This is quite a nice enhancement i.e. what Microsoft has done is to make IE 11 more sensitive to older Line of Business apps that might run as web services written for IE8 and ensure that backwards compatibility has been preserved. There are plenty of these kinds of apps around, so this makes good sense.
In terms of the converged developer platform…
Microsoft detailed a new common platform across devices, a single toolset, a common infrastructure across the Windows and Windows Phone stores and what it wants us to call a "clear commitment" to interoperability.
NOTE: Microsoft started employing interoperability specialists somewhere around the start of the millennium and talking about how interoperability should be "baked in" from the start. We sniggered back then (TechEd Amsterdam 2003), but hey look — now we have Office of iPad and MS DOS has just been open sourced, so you can stop your childish sniggers now please.
Terry Myerson, executive vice president, OS Group at Microsoft said, "[Something nice and gung ho about things that] benefit our customers, partners and developers alike." You can imagine the rest – he probably said "vibrant ecosystem" too.

Windows Phone 8.1
Although we've not touched on it here so far, Microsoft also unveiled Windows Phone 8.1 and introduced the Cortana digital assistant with a persona inspired by a "Halo" character.
"Powered by Bing, Cortana gets to know you and gets better over time by asking questions based on your behaviour and checking in with you before she assumes you're interested in something," said the company, in a press statement
So getting back to the guts of it, for developers — Microsoft Visual Studio will now be enhanced through Visual Studio 2013 Update 2 Release Candidate.
This update comes in line with the release of TypeScript 1.0, Microsoft's JavaScript superset language with support for static typing and we know that TypeScript 1.0 is available as part of Visual Studio 2013 and Visual Studio Web Express 2013 Spring Update.
NOTE: TypeScript 1.0 is now a fully supported language in Visual Studio.
Universal Projects – 90% code share
Among other new capabilities, Microsoft is talking about the introduction of "universal projects" for developers so that code can be shared across Windows and Windows Phone 8.1 now.
"Universal projects allow developers to use approximately 90 percent of the same code, a single packaging system, and a common user interface to target apps for phones, tablets and PCs," said the company.
And finally (although it's not, there is more bedsides) later this week, Microsoft will release the next version of Windows App Studio, a web-based tool for non-developers that enables the creation of universal Windows apps in a single project.
The Windows 8.1 Update is available to download for MSDN subscribers now and will be generally available via Windows update through the Windows Store from 8 April.