Devon Healthcare develops bespoke patient record apps
The Northern Devon Healthcare Trust has this month teamed up with specialist software developers Blue Diamond and NDL to roll out a mobile working project to involve around 800 community nurses and therapists.
The Trust will make use both of NDL's universal integration technology (awiSX) and its mobile working software platform (awiMX) to launch the Department of Health Community Information Data Set (CIDS), a Department of Health directive for all community health providers, in April of 2012.
According to NDL, The awiMX toolkit allows non-technical users to both build and distribute bespoke apps to smartphones or tablets using Android, BlackBerry or Windows operating systems.
Northern Devon Healthcare Trust will use the software in conjunction with its bespoke in-house patient information system for community health workers. This system will allow nurses and therapists to access and update information hosted on a back office system via devices such as smartphones or tablets, while they are visiting patients in the community.
Keri Storey, assistant director of health and social care at Northern Devon Healthcare Trust has explained that by using lightweight mobile devices, nurses can input patient data at the time, rather than having to wait until they are back in the office.
"This pioneering venture puts us at the forefront of NHS Trusts using mobile technology to create a real-time record of patient care which can be accessed by multi-disciplinary teams. This supports the Trust strategy to help people live healthily and independently in their own homes and will make a huge difference to how we are able to care for patients in the future," said Storey.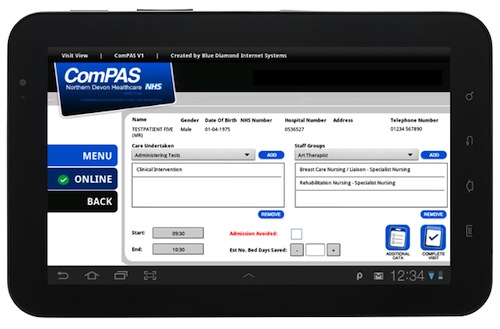 "Although the 3G network has improved, in rural areas like Devon it's impossible to rely on it completely. The fact NDL's applications will continue to work on the device, even if there is no 3G signal, is vital."
Data is then synchronised automatically when signal becomes available. No patient data will be permanently stored on the devices so that confidentiality is protected.