Data, today, is nothing without analytics
Data is nothing without analytics. Or to be more specific, so-called Big Data is nothing without Big Analytics.
Those are not branded or trademarked statements. Neither are they marketing taglines or advertising slogans — and to be quite honest, that's just a bit surprising.
Big "enterprise" scale IT vendors from SAP, to Oracle, to IBM etc. can barely go a press release without mentioning analytics today. This is the world of almost 'added value data' if you like.
Or at least, this is data where additional value has been extracted from it.
As we know, IBM's Sam Palmisano famously re-aligned his firm's focus towards services at the start of the millennium. As the firm's desktop and laptop division gently played out its swansong, the IBM Global Business Services division grew into the global behemoth (in a nice way) that it is today.
So as Big Blue now rolls out its latest batch of analytics software with new predictive technologies from (and I quote) "dozens of companies IBM has acquired", where do programmers, team leaders and (of course) C-level decision makers look for the pressure points and USPs in these new offerings?
IDC estimates enterprises will invest more than £75 billion by 2015 to capture the business impact of analytics, across hardware, software and services.
IBM combines consulting services and software in this field to (and yes this could become the firm's tagline) — transform big data from a threat into an opportunity, one that will be their most valuable natural resource.
Here's a practical example of how the firm's Smarter Analytics Signature Solutions technology could work…
"Each year, health care fraud tops US$250 billion, according to the FBI. Tax fraud costs billions more. IBM's adaptive systems learn from the latest data, helping to protect against emerging fraud. The solution embeds advanced algorithms directly into business processes, providing government agencies and insurers with the ability to detect fraud in real time – before funds are paid out. Using sophisticated analytics, the solution recommends the most effective remedy for each case, optimising an organisation's finite resources. For example, the system might recommend that a simple letter requesting payment be sent to resolve one case, while recommending that a full investigation be opened in another case.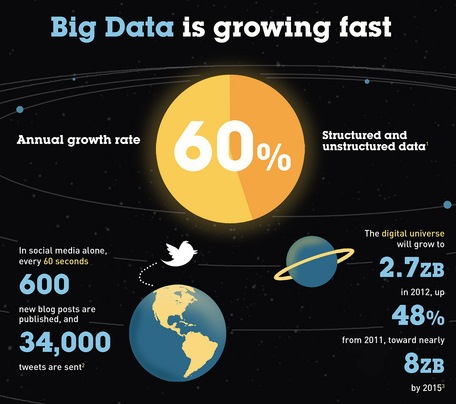 You can view the full IBM Infographic on Big Data here, an excerpt is shown above.
The company says that software application developers tasked with implementing these kinds of technologies will be able to plug into applications management services to help "architect in" a Big Data platform at the enterprise level.
END NOTE: If IBM does want to officially brand "data is nothing without analytics" then please drop me a line — my rates are reasonable.