CV keyword bingo: HTML5, Hadoop & MongoDB
Job search website indeed.com has compiled a job trends report with a supporting graphical analysis to detail to the top keywords that job hunters submit and employers look for when it comes to evaluating curriculum vitae's (CV) or résumés, if you prefer the Franco-Americanism.
The key light-switch-on word or term applicants can use is (perhaps unsurprisingly) HTML5.
"HTML5" is the #1 job trend – the fastest growing keyword found in online job postings – ahead of "MongoDB" in second place and "iOS" in third place says the company.
The full list of top ten keywords (shown below) suggests (again perhaps unsurprisingly) that web, mobile, big data and cloud all lead in terms of what job hunters are putting forward as their main skills today.
Social media makes a respectable entrance in tenth place also.
1. HTML5
2. MongoDB
3. iOS
4. Android
5. Mobile app
6. Puppet
7. Hadoop
8. jQuery
9. PaaS
10. Social Media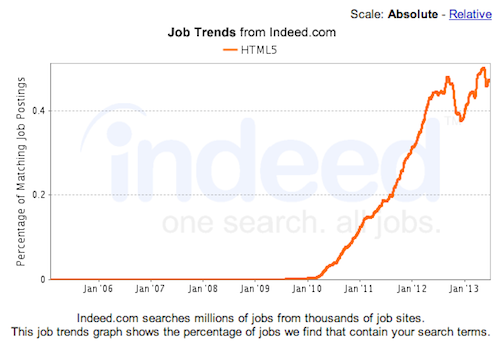 You can use indeed's search tool to look up any words or phrases by entering them in the search box at https://www.indeed.com/jobtrends.