Avanade: the finger is the new magic marker
Avanade throws another chilli into the big data strategy wok this month with the arrival of its Touch Analytics for Mobile Devices product.
First there was big data… then analytics, visualisation and touch – in that order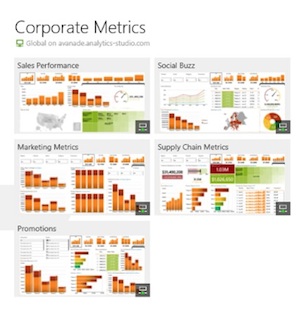 Here's the theory then… first there was big data, then came analytics and the ability to break down, categorise and manage that big data.
Next came visualisation and the option to be able to produce "shape"-based representations of data movements, values or trends.
… and finally there came devices with touch-enablement and so the pressing need to convert these data analytics visualisations on to touch devices that C-level managers could use easily in board meetings, presentations and airline lounges etc.
Avanade (pron: Avah-naad, never rhyme with lemonade) talks about what it likes to call in corporate-speak "empowering insights with information at the point of decision" today.
What the company means by this is creating data analytics to communicate, collaborate and make decisions upon on any mobile device.
The firm's technology works with viewers located at favourite device app stores – iOS, Android, Windows Phone and associated devices, HTML 5 or otherwise – and you can now consume this information and make decisions when needed regardless of location or device.
"The application helps businesses to align with their own 'Bring your own device' (BYOD) policy, as the application can provide online and offline capabilities natively and securely across all devices which is crucial to commercial advantage," said the company.
Adoption of analytics applications and experiences is critical to deriving business value from them and Avanade believes that being "Built for Touch" makes a difference.
The notion of using fingertips as a stylus, where information is accessed with a tap versus a click, or a swipe instead of dragging and dropping and screen real estate is inherently small means a different design approach, particularly with delivering analytics for a digital business.
According to the Avanade blog, "With ATA you will be able to leverage a publishing interface with pre-configured gauges, maps and gadgets to help facilitate a beautiful experience your users will enjoy. You can tie Avanade Touch Analytics to back-end systems and a variety of data to bring together insights from big data, small data and all data whether contained in a blog or an excel spreadsheet. You can create a dashboard and a set of KPIs so that they are consistent in look, feel and experience across a host of devices. All of this gives you the confidence to provide this capability to your organisation."