Amazon creates 'highly-tuned' search function for cloud apps
Amazon Web Services has introduced CloudSearch, a new service intended to give software application developers the option to build search functionality into their cloud-based applications.
With cloud in its 'still-nascent' state, many customers might arguably "assume" that search functionality is an implicit component of application data that sits on virtualised hosted cloud environments.
Amazon explains that this is not the case and that prior to its release of CloudSearch, building robust search capability required dedicated engineering teams who would spend weeks, or even months, provisioning, configuring and deploying costly search infrastructure and software
The company points out that it might know a thing or two about hosting, cataloging and searching data stores at scale as a result of its book trade pedigree — and Amazon CloudSearch leverages the same A9 technology that powers search for Amazon.com
"Developers simply create a search domain, upload the data they want searchable and Amazon CloudSearch automatically provisions the technology resources required and deploys the highly tuned search indexes needed," said the company, in a press statement.
CloudSearch scales as the amount of searchable data increases or as the query rate changes. Developers can tinker with the mechanics of this tool from the AWS Management Console and change search parameters, fine-tune search relevance and apply new settings without having to upload the data again.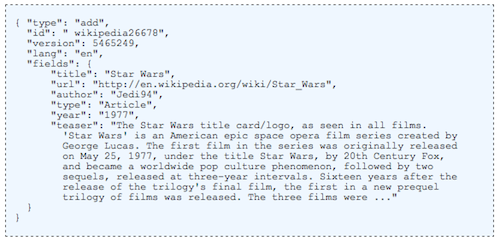 Image: In Amazon CloudSearch, documents are described using the Search Data Format (SDF). The JSON version of the sample Wikipedia document shown above is approximately 1 KB in size.