AVG launches Internet Security Suite 2011, but what about the Bayesian probability factor?
So last night I was able to meet and share canapes with AVG CEO J.R. Smith and the company's CTO Karel Obluk to celebrate the launch of the new AVG 2011 Internet security suite. What started out looking like a back slapping meet-and-greet did in fact turn into a deep dive technology update and a mathematics lesson in Bayesian probability.
Amidst the crab balls on spoons, miniature vegetarian tacos served by effeminate waiters and the glitzy gloss of a product launch you can sometimes, if you are lucky, get down to the nitty gritty of why a company has gone to market with a new product version. This was my mission…
AVG says its 2011 iteration features enhancements based on community feedback from the company's global community of more than 110 million users and now includes enhanced web and social network-protection.
But what kind of feedback is this? What kind of enhancements have been made — and is AVG's so-called People-Powered Protection technology and approach anything more than marketing puff?
I had a similar problem when I attended the launch of Adobe Photoshop Elements last month. I asked the speaker how the company had re-engineered and re-architected the product to extract it and simplify it from the total Creative Suite 5 offering. I got a, "we'll get back to you on that" – and I'm still waiting.
This was not so much the case last night. AVG does seem to take the back end seriously enough to bring its CTO along to product launches and this guy is a programmer of the old school. Karel Obluk took me through software kernels, re-architecting modules to handle zero-day attacks, how automatic updates are engineered at the back end, how the analysis labs work inside an anti-virus company and where I should look for to get the best beer in his home city of Prague.
The concept is simple, or at least it ought to be. If you want developer/programmers to adopt your product and actually use it- then they are going to need to know more than whether or not it comes in a shiny new box.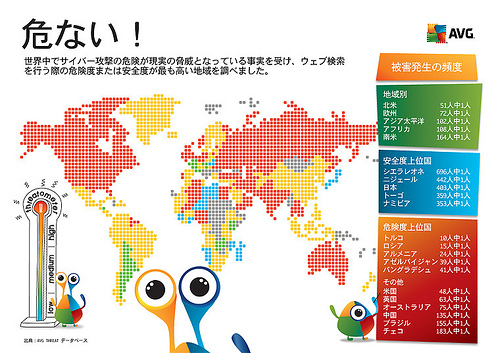 AVG's People-Powered Protection appears to be a system where users decide to opt in or opt out of sharing data related to the websites (both safe and potentially malicious) that they visit. Aggregating this data and then feeding it into analysis engines fueled by (among other values) Bayesian probability logic where reasoning can be theorised on the basis of 'uncertain' statements – the company says it builds new Internet security power.
Without going into any further analysis of Bayesian probability and the state-of-knowledge concepts of objectivist views versus subjectivist views, there is still a lesson here I believe.
Of course, AVG does have its free to download LinkScanner technology which analyses website content before a user's browser is directed onward – and it also has its AVG Free model, which, arguably, also brings in a good quotient of faithful converts to the AVG way.
But if you want to sell to your product to families and non-techies then fine, keep your messages pretty much as they are. If you want to seed power users from the top down who will understand why your product is better (if it indeed is) – then drop in some Bayesian probability theory and a CTO briefing. Otherwise, those canapes better be really good.