Operating systems software
Competition among operating system (OS) suppliers is growing, with new OS products being developed for emerging platforms such as smartphones and netbooks. Microsoft Windows is still the most important product for businesses, but Linux, Mac OS and Unix offer important alternatives, along with device-specific OS such as Android and Chrome. We examine the operating system software choices facing IT managers.
In Depth :

Operating systems software
We look at the evolution of the server operating system, and how the next generation is moving into the cloud Continue Reading

We examine the current state of play in the ongoing competition between the Linux and Unix server operating systems Continue Reading

During Computer Weekly's 50th anniversary event, we held a panel discussion at Skills Matter in London to look into how enterprise software is changing Continue Reading
View All In Depth

Download this free guide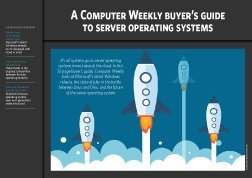 A Computer Weekly buyer's guide to server operating systems
It's all systems go as server operating systems move towards the cloud. In this 12-page buyer's guide, Computer Weekly looks at Microsoft's latest Windows release, the state of play in the battle between Linux and Unix, and the future of the server operating system
Blog Posts :

Operating systems software
Could Windows every become open source? To be honest, although that discussion is fun to have, it's really not on the cards right now or up for discussion. This was the avowed verbalisation made by ... Continue Reading

The world does not yet have enough operating systems, it appears. The current proliferation of new OSs is, in part perhaps, due to the emergence of the Internet of Things and the race to try and ... Continue Reading

Canonical is the company behind Ubuntu, the Debian-based Linux distribution that many of us know as 'probably' (arguably, not necessarily if you're a purist) the best Linux operating system for a ... Continue Reading
View All Blog Posts
Opinion :

Operating systems software
There is a need for British businesses to improve their adoption of digital technologies Continue Reading

Software and service providers face a battle to deliver new products, features and capabilities faster than ever Continue Reading

What steps should businesses take to assess their vulnerability to the Shellshock Bash bug and patch vulnerable systems? Continue Reading
View All Opinion
Videos :

Operating systems software
Gerry Smith, vice-president of operations at travel services provider Amadeus, speaks to Cliff Saran about the company's software architecture

In this video, Robert Mullins, co-founder and trustee of the Raspberry Pi foundation talks about the success of the bare-bones educational computer

William Ruh, vice president at GE Global Software Center , discusses how sensor networks will create a machines services business at the company.
View All Videos