Getty Images
Apple breaks Q3 records, while losing market share to Huawei
Apple has posted a record-breaking quarter, but its smartphones are not selling as fast. Huawei is now the second largest smartphone maker
Apple has reported record third-quarter revenues of $53bn, driven by sales of iPhones and wearable devices.
Its iPhone sales grew by 20% in the quarter, while services revenue increased to $9.6bn.
Apple said revenue in its wearables product line, which includes the Apple Watch, Air Pods and Beats, had grown to $10bn over the past four quarters.
The company said Apple Pay was now available in 24 markets, supported by 4,900 bank partners, while its services segment, which includes digital content and services, AppleCare, Apple Pay, licensing and other services, reported revenue of $9.6bn, up 31% compared with the third quarter of 2017.
"Our Q3 results were driven by continued strong sales of iPhone, services and wearables, and we are very excited about the products and services in our pipeline," said Apple CEO Tim Cook.
In a transcript of the earnings call posted on the Seeking Alpha financial blogging site, Cook claimed that the Apple App Store for IoS apps was more profitable for app developers than Google's Android Play store. The Apple App Store, which launched a decade ago with the company's first iPhone, has earned developers $100bn, he claimed.
When asked about how frequently existing customers were replacing their iPhones, especially given that cheap iPhone batteries are now readily available, Cook admitted some replacement cycles were lengthening.
"The major catalyst for that was probably the subsidy plans becoming a much smaller percentage of total sales around the world than they were at one time, so some are lengthening. But I think for us, the thing that we always have to do is come out with a really great innovative product, and I think iPhone X shows that when you deliver a great innovative product, there are enough people who would like that and it can be a really good business, so that's how to look at that."
Development efforts to enhance user experience
One of the areas Cook discussed during the earnings call was how Apple was working to make application development on MacOS more closely aligned with iOS, to stimulate application compatibility and support a similar user experience across Macs, iPads and iPhones.
"We want to empower our developers to bring their innovative apps from the iOS ecosystem to the Mac with minimal effort," he said. "Though iOS and MacOS are different, they've shared common foundations from the very beginning, so we've taken key frameworks from iOS and adapted them to specific Mac behaviours like using a mouse or trackpad, resizing windows, copy and paste, and drag and drop."
Cook also highlighted some of Apple's development efforts to speed up the coding of machine learning (ML) and augmented reality (AR) applications.
"Developers will be able to build even more intelligent apps with just a few lines of code using the power of machine learning with Core ML 2 and Create ML," he said.
Cook also introduced the third release of its ARKit augmented reality coding framework.
"We believe AR can enable profound experiences. With ARKit 2, iOS 12 will provide an even more powerful platform to make dynamic AR apps, integrating shared and persistent AR experiences, object detection and image tracking," he said.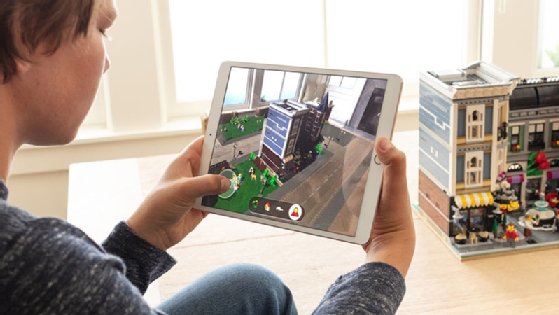 Cook claimed Apple was unlikely to be affected by the US trade tariffs on steel and aluminium being put in place by the Trump administration and the risk of a trade war, but he said the company was assessing the potential impact of another proposed tariff.
"The fourth tariff, which includes goods valued at $200bn, also focuses on goods that are imported from China. We're evaluating that one. It's a tedious process, because you not only have to analyse the revenue products, but you also have to analyse the purchases you're making through other companies that are not related to revenue," he said.
Losing market share to Huawei
Although Apple posted a record quarter, analyst Canalys said Apple had dropped to third place in terms of market share. The second largest smartphone maker is now Huawei, while Samsung is the market leader.
Mo Jia, a Canalys analyst based in Shanghai, said Huawei's strategy had evolved significantly over the past six months. It shipped seven million of its latest flagship products – the P20 and P20 Pro.
"Huawei has accelerated its adoption of new technologies this year, focusing on AI [artificial intelligence] with its NPU chipsets and on imaging with its triple-camera setup," said Jia. "Its efforts have paid off. The P20 and P20 Pro sold faster than their predecessors in their launch quarter. Outside of China, the P20 and P20 Pro more than doubled the shipments of the P10 and P10 Plus."
Read more about Apple's mobile technologies