Government CIOs and IT suppliers must stop "hiding behind a comfort blanket" because some of them "just don't have the capability" to see through the change needed in Whitehall IT, according to one of the government's most senior IT chiefs.
G-Cloud programme director Chris Chant has slammed those in government IT who are preventing change taking place in the way IT is procured and managed, in a valedictory blog post prior to his retirement at the end of April after many years in senior IT roles in the Civil Service. He highlighted the failings of both IT leaders and suppliers.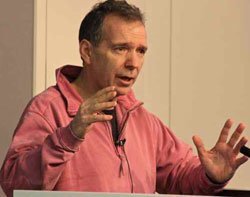 "Real progress has been blocked by many things including an absence of capability in both departments and their suppliers [and] by a strong resistance to change," wrote Chant.
"CIOs across government, including me in various roles at the centre of government, have been guilty for too long of taking the easy path. We have done the unacceptable and thought we were doing a great job."
Listing the key challenges facing government IT, Chant points to "some people" who "just don't have the capability to do it."
"They will have to look hard at themselves and decide how they are going to resolve that because it will turn out to be the toughest thing that they have done in their career so far. The difficult stuff comes now," he said.
Chant says government IT has come a long way in recent years and highlights moves such as greater transparency, open data, and the G-Cloud programme for which he has been responsible, as big drivers of change – but says much more needs to be done.
CIOs across government need to recognise what has changed.

Chris Chant, G-Cloud programme director
"IT in government has certainly come a long way, it just hasn't come far enough. It remains unacceptable. The trends of the last couple of years - transparency, open data, open services, SMEs - aren't going away; if anything, they will go stronger and bed in deeper," he said.
"CIOs across government need to recognise what has changed and stop hiding behind the comfort blanket of what has always been done before. Big suppliers should see the smoke from that comfort blanket and recognise that the world of government IT has changed. They can no longer rely on delivering poor service for big money and get away with it."
Chant has been one of the most vocal campaigners for widespread reform of government IT, and has pioneered many of the programmes at the heart of that reform, such as "digital by default" services, the use of SMEs and moves to use cloud computing.
Listing the failings of government IT, Chant cited:
"Contracts with single suppliers that have led to both poor service and high costs, because that is the way government did things."
Over-reliance on contracts with big suppliers leading to smaller, innovative firms being excluded, "because new suppliers, we figured, brought risk and uncertainty."
Using IT that is "ridiculously expensive and over-engineered because we thought that was the right thing to do."
But Chant leaves Whitehall with the hope that things are about to improve.
"The biggest change is that some in the public sector are no longer willing to put up with the poor service and delivery that they've experienced; they are actively looking for new ways of working," he said.
"Big departments openly talk about wanting to get away from the traditional model of big, cumbersome IT and are serious. I hear CIOs talk about not wanting to see promises continually broken and I know that they mean it."
Email Alerts
Register now to receive ComputerWeekly.com IT-related news, guides and more, delivered to your inbox.
By submitting your personal information, you agree to receive emails regarding relevant products and special offers from TechTarget and its partners. You also agree that your personal information may be transferred and processed in the United States, and that you have read and agree to the
Terms of Use
and the
Privacy Policy
.