BeOS will live on as Microsoft settles legal action
Microsoft is to pay $23.3m to settle an antitrust lawsuit filed last year by now-defunct rival Be. But the deal might not be the...
Microsoft is to pay $23.3m to settle an antitrust lawsuit filed last year by now-defunct rival Be. But the deal might not be the last hurrah for Be's operating system if some determined developers succeed in recreating the operating system software.

Download this free guide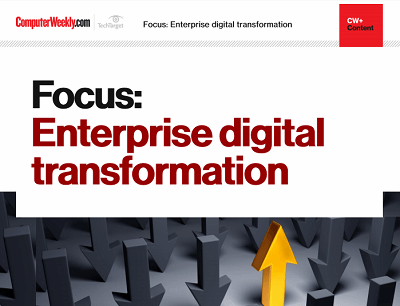 Are you digital to the transformation?
Digital transformation - the buzzword that we can't get away from. Enterprises need to accelerate their digital transformation journeys to avoid being left behind in an increasingly digital world. It's not an easy feat, but one that can be costly to get wrong. Join us as Computer Weekly takes a look at how businesses can stay on track through collaboration, innovation, and listening to user needs.
By submitting your personal information, you agree that TechTarget and its partners may contact you regarding relevant content, products and special offers.
You also agree that your personal information may be transferred and processed in the United States, and that you have read and agree to the Terms of Use and the Privacy Policy.
In its February 2002 lawsuit, Be alleged that Microsoft had entered into anticompetitive agreements with PC makers, effectively blocking Be's efforts to have its operating system sold alongside Windows on systems.
Microsoft denied the charges, and it did not admit to any wrongdoing as part of the agreement to settle the lawsuit. The settlement terms, other than the payment amount, will remain confidential.
But BeOS, which was noted for its ability to handle multimedia applications on desktop PCs, has not been entirely forgotten. About 30 developers are trying to recreate the features of the operating system through reverse engineering, so that users can run third-party applications written for BeOS. The initiative, called OpenBeOS, is a volunteer effort.
"This is about the love of the technology - it's about wanting to work on an operating system that doesn't make me miserable," said Michael Phipps, a developer who is heading OpenBeOS.
About two-thirds of the work has been completed, and the first version of the reborn system should be finished next year, Phipps said, adding that for trademark reasons, the group will change the software's name.
Be's technology assets and intellectual property were bought by handheld device company Palm in late 2001. Its PalmSource operating system subsidiary last week declined to discuss its plans for using the BeOS code.
BeOS never achieved a measurable market share percentage, "but it's not to say there are no users," said Al Gillen, an analyst at IDC. "There was a user community for BeOS, and they were very supportive of the environment."
Patrick Thibodeau writes for Computerworld
Read more on Operating systems software