SAP is in a transformational stage, Jim Hagemann Snabe, co-chief executive of SAP has told the UK & Ireland SAP user group conference taking place in Manchester.
The aim of this process is to expand beyond planning resources for the enterprise to help optimise scarce resources for the world such as water and energy, he said.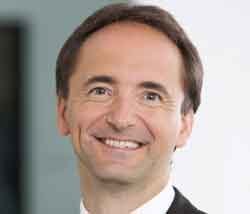 At the macro-level, SAP is looking at optimising all value chains, said Snabe, and at the micro-level, making people more effective by giving them the information they need wherever they are.
Since February, this has evolved into SAP's strategy of consolidating and improving its leadership on premise, and providing that same capability on-demand in a software-as-service model where appropriate, and on-device to meet the demand for mobility.
"Finally, we believe in orchestration," he said, to ensure information is consistent across on-premise, on-demand and on-device.
Orchestration is about SAP taking the responsibility of fitting it all together, both SAP and non-SAP systems, said Snabe.
This is where the new SAP leadership sees the company's biggest strength and diffentiator.
By building the pieces to fit together, SAP is taking a big cost burden out for customers, said Snabe, although the company does not assume wall-to-wall SAP and can interoperate with non-SAP systems.
SAP's aim is not to block or lock customers in, but to offer an open choice, he said. "We would rather innovate with customers and offer choice".
Although rapid innovation is an important goal, SAP is above all committed to quality, said Snabe.
"We have raised the bar on quality. We do not want rapid chaos. We do not want to ship problems to customers, but to fix them first," he said.
Overall, SAP's strategy is to enable innovation through disruptive technologies like in-memory computing delivered in a non-disruptive way, while reducing cost of ownership.
Snabe confirmed that SAP's first in-memory appliance, HANA, will be available to the first customers by the end of November.
The only way business can afford the new world of collaboration, innovation and mobility is if suppliers reduce the cost of ownership, said Snabe.
"If we can reduce the cost of ownership, we can free more budget to sell more software, so this is an important goal," he said.
Predictability is another goal for SAP. "It is important to become a reliable partner to customers," said Snabe.
SAP will continue to work with end users, particularly through user groups, to share product roadmaps for each industry and line of business, he said.
"By working with customers early on in the product development cycle, SAP can ensure we deliver on user expectations at a faster pace and reduced cost," said Snabe.
He said SAP is committed to sharing products roadmaps to build trust and enable organisations to plan accordingly.
Email Alerts
Register now to receive ComputerWeekly.com IT-related news, guides and more, delivered to your inbox.
By submitting your personal information, you agree to receive emails regarding relevant products and special offers from TechTarget and its partners. You also agree that your personal information may be transferred and processed in the United States, and that you have read and agree to the
Terms of Use
and the
Privacy Policy
.