Essential guide to the EU General Data Protection Regulation (GDPR)
A guide to the new European Union data protection laws and how they affect your organisation
Introduction
The European Union's General Data Protection Regulation (GDPR) comes into effect on 25 May 2018. GDPR will introduce new accountability obligations and stronger rights and restrictions on international data flows.
Against a backdrop of radical technological advances and the Snowden revelations about data surveillance, the new framework is ambitious, complex and strict. It presents any organisation that has so far failed to begin preparations with a steep challenge to become compliant in time.
GDPR introduces new obligations for any organisation that handles data about EU citizens - whether that organisation is located in the EU or not. It introduces data breach notification into European law for the first time. And it places stricter responsibilities on organisations to prove they are adequately managing and protecting personal data.
In this guide, we examine the challenges, opportunities and key actions that all organisations need to consider in preparing for GDPR.

1

What you need to know

-
GDPR: What IT professionals need to know
What is GDPR, and what do IT leaders and IT professionals need to know about the new data protection laws?
2

GDPR compliance

-
Preparing for GDPR
All organisations face an onerous task to prepare for GDPR compliance - we examine the challenges

Download this free guide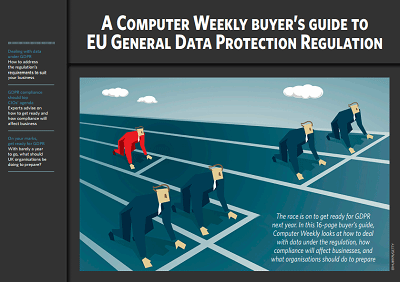 Computer Weekly's Buyer's Guide to GDRP
The race is on to get ready for GDPR next year. Computer Weekly looks at how to deal with data under the regulation, how compliance will affect businesses, and what organisations should do to prepare.
By submitting your personal information, you agree that TechTarget and its partners may contact you regarding relevant content, products and special offers.
You also agree that your personal information may be transferred and processed in the United States, and that you have read and agree to the Terms of Use and the Privacy Policy.
3

What GDPR means for you

-
GDPR: How it will affect your organisation
GDPR compliance is a critical task for every organisation - but what will be the impact of other issues such as Brexit, skills, or international trade? We look at the issues that affect you