Funtap - stock.adobe.com
Swedish court finds ambiguities in hacked EncroChat cryptophone evidence
Defence lawyer claims evidence obtained by hacking the EncroChat encrypted phone network has 'no legal' value following Swedish appeal court ruling
A Swedish court has overturned a ruling to convict a 23-year-old man accused of illegal firearm possession based on evidence obtained from the EncroChat hack, raising questions about its reliability in Swedish courts.
The Svea Court of Appeal in Stockholm found "ambiguities" in the evidence from the EncroChat encrypted phone network presented by the prosecutor, but did not reject the material altogether.
Public defender Jacob Asp said: "The verdict clearly states that material obtained from the EncroChat hack has no legal value whatsoever. Future trials will have the same outcome."
More than 700 phones in Sweden were tapped in the operation, leading to hundreds of investigations and high-profile court cases across the country, according to French court documents.
Investigators from France's digital crime unit infiltrated the EncroChat encrypted phone network in April 2020, capturing 70 million messages.
The operation, supported by Europol, led to arrests in the UK, Holland, Germany, Sweden, France and other countries, of criminals involved in drug trafficking, money laundering and firearms offences.
Debate over EncroChat evidence
The mass hacking of the EncroChat encrypted phone network, which was used by organised criminals, has sparked a debate in Sweden on whether EncroChat messages should be used as evidence in a court of law.
Some lawyers argue that mass surveillance violates Swedish law.
But Sweden's prosecutor general, Petra Lundh, wrote in an open letter on 29 April 2021 that there was already precedent to allow material obtained by the EnroChat hack to be used as evidence in Swedish courts. There was no need for the Supreme Court to make a decision on the matter, she said.
The 23-year-old, Abdulsattar Al-Nuaimi, was sentenced in February by Eskilstuna District Court to three years and nine months in prison, but was released on 23 April after a decision by the Svea Court of Appeal.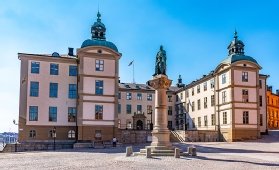 On 7 May, the court acquitted Al-Nuaimi after it found the evidence against him was "inconclusive". The case against Al-Nuaimi was largely based on evidence obtained in the EncroChat hack by French and Dutch authorities last year.
Christian Dahlman, a professor at Lund University's Department of Law, said the verdict by Svea Court of Appeal was in line with previous court rulings based on phone surveillance records.
"The defendant in this case was acquitted because the prosecution has not convinced the court exactly what happened," he said. "As a defender, one could argue that the verdict emphasises that such evidence leaves room for reasonable doubt."
Dahlman has called for the issue to be tried in the Supreme Court, but said it was very unlikely the prosecution would want that.
"The verdict clearly states that material obtained from the EncroChat hack has no legal value whatsoever. Future trials will have the same outcome"

Jacob Asp, lawyer
"The prosecution absolutely does not want the issue to be tried by a higher court. It would be a nightmare for the state prosecution if the Supreme Court ruled EncroChat evidence as unlawful," he said.
Under Swedish law, all evidence, even if it is unlawfully obtained, is admissible in Swedish courts, with the exception of material obtained under torture.
Swedish prosecutors have disclosed they do not know how the French Gendarmerie intercepted millions of messages from EncroChat phones.
"Due to the mutual trust between European countries, it is not Sweden's role to question, or even ask, how the material came about," the public prosecutor said in a statement on 22 April.
EncroChat evidence has 'no legal value'
Public defender Asp said the court decision showed that EncroChat evidence did not hold up in Swedish courts.
"It is understandable that the Court of Appeal does not reject the evidence outright, but it's clear from the verdict that EncroChat messages have no legal value. This is the most critical verdict so far and it simply shows the evidence doesn't hold up in a court of law," he said.
Asp said the verdict would have an impact on future court cases that make use of evidence from EncroChat hacks. "The Svea Court of Appeal has concluded that the issue must be tried at a higher court. Sweden does not allow phone tapping unless a court order has been issued. In my view, it's pretty clear that material obtained from mass surveillance should be dismissed in a court of law," he said.
"On the one hand, we have 200 criminal individuals who will be acquitted, and on the other hand, we have, in principle, the more important matter regarding integrity. We don't allow mass surveillance in Sweden and this is what has happened," said Asp.
Number of phones infected in first month of EncroChat hacking operation by country

No. of phones

Country

6,867
Netherlands
5,562
UK
4,804
Spain
3,353
Germany
1,925
Italy
1,231
Canada
1,099
Albania
949
Turkey
911
Belgium
774
Poland
718
Sweden
---
Additional research by Sebastian Klovig Skelton.
Read more about EncroChat
Top lawyer warned CPS of risk that phone hacking warrants could be unlawful: Lord David Anderson QC warned prosecutors that there were formidable arguments against the lawfulness of a police operation to infiltrate encrypted phone network EncroChat.
French legal challenge over EncroChat cryptophone hack could hit UK prosecutions: French lawyers are challenging legality of French police operation to harvest tens of thousands of messages from EncroChat encrypted phone network in a move that could overturn criminal prosecutions in the UK.
Dutch accuse UK of 'damaging confidence' by disclosing details of EncroChat police collaboration: The Dutch Public Prosecution Service claims Britain has damaged confidence by disclosing details of an international investigation into the EncroChat encrypted phone network to the courts.
EncroChat hearings delayed as lawyers seek disclosure on police hacking: Court hearings precipitated by police cracking the EncroChat secure mobile phone network delayed after defence lawyers request further disclosures on police decryption capabilities.
Cops take out encrypted comms to disrupt organised crime: In July 2020, after French and Dutch authorities had gained access to the encrypted EncroChat network, the NCA and its counterparts worked to disrupt the serious and organised criminal networks using the platform.
Appeal court finds 'digital phone tapping' admissible in criminal trials: On 6 February 2021, judges decided that, despite UK law prohibiting law enforcement agencies from using evidence obtained from interception in criminal trials, communications collected by French and Dutch police from EncroChat using software 'implants' were admissible evidence in British courts.
Belgian police raid 200 premises in drug operation linked to breach of encrypted phone network: On 9 March 2021, Belgian police raided 200 premises after another encrypted phone network with parallels to EncroChat, Sky ECC, was compromised, in what prosecutors describe as one of the biggest police operations conducted in the country.
Arrest warrants issued for Canadians behind Sky ECC cryptophone network used by organised crime: Following the international police operation to penetrate the Sky ECC network and harvest "hundreds of millions" of messages, a federal grand jury in the US indictes Sky Global's Canadian CEO, Jean-François Eap, along with former phone distributor Thomas Herman, for racketeering and knowingly facilitating the import and distribution of illegal drugs through the sale of encrypted communications devices.
Judges refuse EncroChat defendants' appeal to Supreme Court: In March, judges refused defendants leave to challenge the admissibility in UK courts of message communications collected by French cyber police from the encrypted phone network EncroChat. Computer forensic experts working on EncroChat cases said that decision should trigger a wider review of the "far-reaching effects" the legal decision by the Court of Appeal would have on the role of communications interception in future cases.
UK courts face evidence 'black hole' over police EncroChat mass hacking: Forensic experts say that French investigators have refused to disclose how they downloaded millions of messages from the supposedly secure EncroChat cryptophone network used by organised criminals – leaving UK courts to grapple with a forensic 'black hole' of evidence.
Read more on Smartphone technology