Sell paper in January and toners in June
Print specialist Danwood has provided an insight into the corporate printing habits of the nation
The paperless office was a concept that first started gaining ground in the late seventies as futurologists started to predict the changing workplace of the future.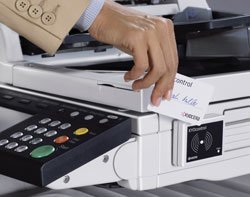 But over the years the long heralded end to printing seemed to be happening much more slowly than those first clarion calls had first expected.
Since the turn of the century there has been a decline in the volume of pages printed and thanks to a younger generation entering the workforce with little history of using paper as a resource it has speeded up in recent times.
Yet there are still millions of pages printed annually and there continues to be plenty of call for printer specialists.
Some research from managed print player Danwood casts some light on the current trends in the market with shows just when the channel needs to be on hand with toners and paper supplies.
The firm found that January is the heaviest month for printing and that most orders for toners are placed in June.
When it comes to days of the week it seems that Wednesday is when the volume peak is hit and more users are opting to print and scan documents.
In comparison it might not be a good day on a Friday to talk about printing with volumes falling to half of the mid-week high.
The paperless office
One of the first predictions that there would be a paperless office in the future came in a 1975 Business Week article and then the phrase got a second airing as a commercial idea in 1978 by Micronet. The broad idea was that as everything went digital people would no longer need to print documents and eventually offices would be paper free zones.
The print specialist has garnered the insights using its DNA tool, which gives users the chance to monitor and manage their printing activities.
Douglas Greenwell, group strategy and marketing director, at Danwood, said that it was able to exploit its technology to get a broader picture of what was happening in businesses across the UK.
"Research has suggested Fridays are the least productive day of the working week and if we map our data on print behaviours to this it certainly seems to be the case. Of course, the real value of DNA for individual businesses is in understanding their own print behaviour and eliminating any inefficiencies and unnecessary costs from this core business process," he said.
In the most recent IDC study of worldwide production page volume, in December last year, the analyst house noted that as a result of changes to the quality and pricing of some printer products it had kept some customers using paper.
"Digital page volume is undergoing a dramatic shift. Digital is grabbing share from traditional offset, to be sure, but there is also a change in mix within digital itself. Colour is growing while monochrome is slipping, in part because of the inkjet revolution," said Amy Machado, senior research analyst, IDC's Hardcopy Peripheral Solutions.