Download this free guide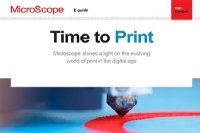 Does print hold the key to the future?
In this e-guide, we discuss the ever-evolving world of print within the digital age. We look at how major print vendors are planning on using the channel to help them grow, how 3D printing is having an impact and why cloud-based solutions are increasing.
In Depth :

Printers
We identify the opportunities presented by managed print services and consider the pros and cons for partners seeking to sell such services Continue Reading

HP partner conference was a chance for the vendor to talk to the channel about doing things differently Continue Reading

The first Plug into Exertis event has given the distributor a chance to pitch its approach to the market and talk up its commitment to innovation and services Continue Reading
View All In Depth
Opinion :

Printers
The internet of things has the potential to address multiple business objectives, but it is not a miracle technology that will provide business benefit in isolation – true value comes only when the wider challenges are considered across all departments Continue Reading

Billy MacInnes wonders if managed print service providers would sign their own contracts Continue Reading

Embracing emerging technology can reap the channel some rewards says Steve Torbe, head of reseller sales at Epson Continue Reading
View All Opinion