Traditional outsourcing holding its appeal in a cloud world
KPMG has found that traditional outsourcing is holding its own as some firms display a distrust of cloud services
There might have been plenty of talk about the cloud, the growth in the popularity of hosted services and the need for the channel to be able to deliver technology in a different way.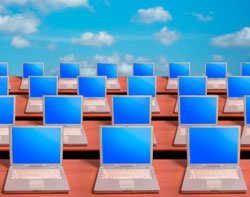 But according to research from KPMG the appetite from customers for cloud based services is not as high as some might have expected but it is not all bad news for the channel with firms increasing the level of IT services they are outsourcing, with more budgets being put aside for HR, sales and finance support.
KPMG found that 71% of UK firms are spending around just 10% or less on cloud services preferring to rely on tried and tested outsourcing models rather than trying a hosted alternative.
The reasons holding the firms back ranged from worries about data security and privacy, location of the information, legacy IT integration issues and some concerns around compliance regulations.
"Despite widespread acceptance that Cloud services offer access to the latest technologies, and make IT more accessible, adoption remains relatively sluggish," said Jason Sahota, director in KPMG's shared services and outsourcing advisory team.
"While concern about the security risks surrounding new technology is understandable it may also be disproportionate, as Cloud options are just as safe as other outsourcing solutions. Of course, investors and stakeholders will welcome caution on the part of the buyers, but they also want to see innovation, meaning that UK plc will need to find the right balance to remain competitive," he added.
Those in the channel providing outsourcing should also be aware that customer motivation is also changing with the focus on just saving money no longer the main factor but improving quality, skills and efficiency some of the main benefits users are looking for.
There are also signs that the IT department is starting to come under greater pressure in those mid to large organisations that rely on them to deploy and service technology.
The KPMG research found that although 70% of firms said the IT department was still acting as a services integrator only half had actually delivered some of the benefits that the rest of the organisation had been hoping for.
"As IT forms an inseparable part of the wider business strategy in many organisations, technology decisions are now rarely left to the CIO alone. It means that, with the potential for conflict over the choices being made, organisations should dedicate a greater level of investment towards governance than they may have in the past," said Sahota.