Is IBM sharpening the axe for dramatic cuts?
Speculation is mounting that IBM could shed as much as 26% of its workforce this week as it looks to reverse its fortunes
Just days after IBM released disappointing results the vendor's workforce are bracing themselves for potential job cuts with the weekend awash with predictions of just how deep the axe could be swung.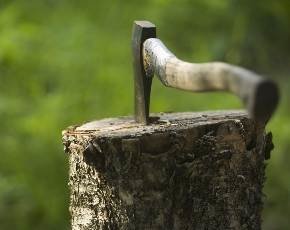 In its latest fourth quarter results, which came out towards the end of last week, Big Blue reported a 11% decrease in net income to $5.5bn and a 12% decline in revenues down to $24.1bn year-on-year with a balance sheet that saw poor performances from the software business and its systems and technology operation was also down.
The vendor has been busy selling off various non-core parts of the business with its chip manufacturing and x86 server operations both being sold off to help sharpen the focus on cloud, security and services.
But over the weekend reports began to circulate that there would be job cuts in reaction to the latest results, with some commentators going as far as predicting a potential 100,000 staff, a quarter of the workforce, could be shed in just one week.
According to reports in Forbes, IBM has been working on plans to roll out the biggest reorganisation in its history, dubbed Project Chrome, for months and the 11th consecutive quarter of declining revenues has proved to be the reason to pull the trigger in the next few days.
The Forbes reports of 26% workforce reductions, with deep cuts expected in the mainframe and storage teams in the US, has been greeted with dismay by The IBM employee's union.
"Various members of the media are picking up on [the assertion in Forbes] that 100,000 IBMers will lose their in a massive reorg at IBM. The Alliance has no information that this is true and we are urging caution on reporting this number as fact," stated the [email protected].
"But as you all know, anything can happen at IBM anymore, and this is the time of year that IBM cuts jobs. Our job cuts reports section is filled with employee comments on being downgraded in their work evaluations (PBC) and slated for individual firings. We do believe this number will be high," the union added.
In comments made last week around the Q4 financials Martin Schroeter, senior vice president and CFO at IBM, told analysts that it had been busy bringing new talent on board in the last year.
"We are continuing to remix our skills and as an example, we had over 45,000 hires in 2014 adding to our capabilities in our strategic areas. So we got a lot done in 2014 that positions us for the longer term," he added that it would continue to hire in growth areas.
"I expect less spending in workforce rebalancing, and while we always have gains, we won't replicate the $1.6bn of gains we had in 2014, so that will be a net impact to our profit," he added.
With market watchers expecting the layoffs to be announced this week it will be only a matter of days before IBM either does or doesn't choose to take the dramatic step of shedding 26% of the workforce and slightly more than 100,000 people.