Technology hands smaller firms the chance to save energy
Smaller businesses could get paid to use less electricity at peak times. So they could make money and earn green marketing kudos if they use the enabling technology
At peak times Britain's power circuits are running at 98% capacity, which means we're only one minor incident away from disaster.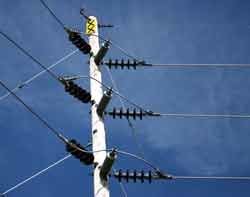 Forget terrorism - all that's needed to tip us over is a minor accident or fire with a pylon, a power plant or even a sub-station. That's why the UK's National Grid pays the biggest power users to cut their consumption during peak hours.
It's been too complicated to offer the same deal to smaller customers - until now. But a new power management start up – Upside Energy - claims it can help small companies be rewarded too.
Founder Graham Oakes has developed a system that enables businesses to run 'off-grid' for 15 minutes a day without any downtime. By alleviating the strain on the nation's power, they can earn up to £150 a year from the National Grid.
His channel to market will be the people who sell power management for the likes of Eaton, Schneider Electric and Riello.
"We basically make it easier for them to sell what they're already selling," said Oakes, "If the end customer gets some extra cash from the equipment, then it's more valuable. We also help them sell ongoing maintenance services. The customer needs to maintain the batteries in order to continue receiving the cash."
The customer also benefits because Upside tests the batteries regularly, once or twice a week. That lets them monitor the health of the batteries more closely, and tune their maintenance cycles more precisely.
The beauty of the scheme is its simplicity, according to Oakes. If it's not simple, most small businesses wouldn't do it. All they have to do is make sure that for 15 minutes every day, at peak times, they run their business off the existing battery power of their UPS systems.
According to Oakes, who is an expert in these matters, most companies have a UPS with far more power storage capacity than they need anyway. Upside's software handles the switchover automatically, so all the companies have to do is sign up to the scheme and it's all managed for them.
Upside gets paid by the National Grid for alleviating the burden and it passes that payment on to each customer. (After taking its small fee of course)
Getting them to sign up to the scheme is where the resellers come in – and earn their own fee.
There is a massive potential for this invention, Oakes claimed. Not only do small and medium sized businesses typically have massive capacity to spare in their UPS batteries, there are local authorities and hospitals that could get in on the scheme. Britain has 30,000 traffic lights, many with battery backup which is never used.
Then there's all those houses with solar panels, whose power could be could be stored and used in peak times.
If adopted widely, this could take Britain from running at 98% peak capacity to 94% - and it's that wider margin for error that much agony could be avoided.
Read more on Data Storage Hardware