Dimension Data sets out ambitious green targets
Dimension Data is planning to save customers millions in saving energy and travel costs
Through the dark days of the recession the green agenda took a bit of a back seat as customers struggled to survive in the short-term, rather than thinking about the consequences of energy usage on the future of the planet.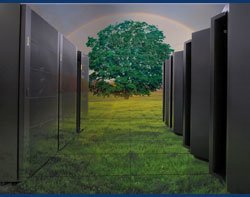 But over the course of this year talk about power, particularly in data centres, and of the need to reduce carbon emissions, has returned to some channel conversations.
The latest to set out an ambitious target to change the way they do business is Dimension Data and the firm is not only aiming to cut client's carbon by 1.8m tons but also to reduce the amount of electronic waste that heads to landfill.
Dimension Data is going to exploit technology to cut the carbon and save 4,000 tons of electronics waste being dumped and has also produced a figure of $2bn as the mount is expects to help save clients in energy, travel costs and reduced pollution by 2018.
The cloud is going to play a major role with the firm quoting its own research that suggest each hosted server saves 4,000 kWh of energy per year and that saving rises as customers move away from storing data on-site.
The other main tool with been to use communications technology to use video and teleconferencing to reduce travel with the channel player quoting a 20,000km saving in travelling for the average unmanaged videoconferencing system.
"We want to use technology to save more carbon while ensuring that we minimise electronic waste going to landfill. We believe that our new targets will help our clients achieve not only their economic, but also their environmental sustainability goals. At the same time, it encourages us to work together and find new ways to use technology to solve a vital issue in preventing dangerous climate change – the reduction of carbon," said Brett Dawson, Dimension Data's CEO.
Colin Curtis, Dimension Data's Director of Sustainability, said that in addition to cloud and videoconferencing there were other technologies that it woujld use, including data centre virtualisation, smart buildings, and network energy management to help customer.