IBM player Portal kicks off unified solution approach
IBM specialist Portal has devised a solution for the education market that brings together all of the skills it has across the business
IBM specialist Portal is pulling together its extensive knowledge of Big Blue's products and services to take a unified approach to target the education sector.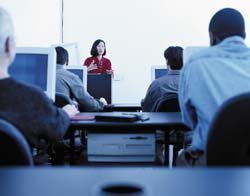 The systems integrator was developed out of three companies, each specialising in a different area of IBM, and has been offering mobile, analytics, cloud and collaboration tools.
But Portal managing director Jon Bradshaw felt that the firm was missing a trick by not combining its efforts into a single solution and has opted to focus on the education market as the first sector where it will try to deliver a rounded approach leaning on all areas of its portfolio.
Bradshaw said that the higher education sector was undergoing significant changes with the introduction of tuition fees changing the relationship to a point where the Universities had to become more serious about attracting and retaining students.
With around 20% of students dropping out, and taking their tuition fee income with them, the pressure was on the higher education sector to ensure that number was reduced and technbology has been identified as playing a key role. On the one hand students themselves want to take advantage of IT and expect a modern infrastructure and teaching using tech aids, but on the other the colleges themselves can exploit some of the features of a management solution to reduce the chances of losing bodies from the lecture rooms.
"We want to build an exceptional student experience," Bradshaw added that the technology was there to help Universities identify potential drop-outs as well as using IT to share more information about lectures and campus services.
Some of the technology that it is using not only helps track attendance, and identify those that are at risk because of missing out on lectures, as well as using Bluetooth beacons to message students via smart phones.
"The universities need to attract the right students, retain them and look after them and look after them after they have left. It needs to be a cradle to grave experience," he said.
Bradshaw added that the approach it is taking to education could well be deployed in other verticals: "We are developing some IP and want to say this is our solution and it is IBM's brands but delivered by Portal."