A new era begins: Ballmer steps down from Microsoft board
Having just purchased the LA Clippers for $2bn, Steve Ballmer has stepped down from his position on the Microsoft board
Former Microsoft chief executive Steve Ballmer has stepped down as a company director, leaving CEO Satya Nadella with a greater level of freedom to reshape the company.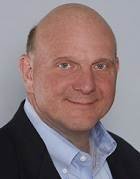 Ballmer, who has just bought the Los Angeles Clippers for $2bn, said that his commitment to the NBA team combined with a new teaching role meant that he would not have the time to remain on the board.
He made the announcement in a public letter to Nadella in which he said:
"Given my confidence [in Microsoft] and the multitude of new commitments I am taking on now, I think it would be impractical for me to continue to serve on the board, and it is best for me to move off. The fall will be hectic between teaching a new class and the start of the NBA season so my departure from the board is effective immediately."
Ballmer remains the largest individual shareholder in Microsoft stock, with about 4% of the company's total shares. Since stepping down as CEO, the share price has climbed nearly 40%, bumping Ballmer's holdings up by more than $4bn.
Backseat drivers
Industry analysts and shareholders had been concerned that Ballmer's position on the board would prevent Nadella from taking the company forward. However, his departure, along with Bill Gates' decision to step down as chairman in February, now leaves Nadella free to rebuild the company.
Ballmer's letter imparted a few words of advice to the new CEO. He wrote: "Microsoft will need to be bold and make big bets to succeed in this new environment. Writing great software is a tremendous accomplishment and selling software has been a fabulous business. "
"In the mobile-first, cloud-first world, software development is a key skill, but success requires moving to monetization through enterprise subscriptions, hardware gross margins, and advertising revenues. Making that change while also managing the existing software business well requires a boldness and fearlessness that I believe the management team has."
Despite the shackles of former Microsoft heavyweights, Nadella hasn't exactly shied away from business reformation. Last month, he announced the decision to axe up to 18,000 jobs over the next year, equivalent to 14% of the workforce.
He has also emphasised in no uncertain terms, that he intends to make Microsoft a cloud-first organisation.
Thank you
Nadella responded to the letter, thanking Ballmer for his support during the transition. He said that under Ballmer's leadership, Microsoft had created 'an incredible foundation' to thrive in the mobile-first, cloud-first world.
"As you embark on your new journey, I am sure that you will bring the same boldness, passion and impact to your new endeavors that you brought to Microsoft, and we wish you incredible success," Nadella wrote.
"On behalf of all of Microsoft and the Board of Directors, thank you," he added.