White-label server growth challenges established vendors
The growth in white-label servers has added pressure to the leading vendors in the market
The server market continues to come under pressure with the latest figures covering the fourth quarter from both IDC and Gartner indicating that the last three months of 2013 saw around a 4.5% decline in revenues.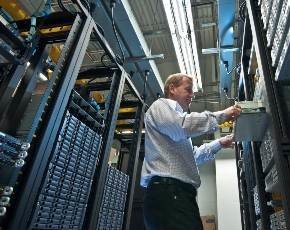 The drop in revenues, which were also around the same minus 4.4% for the full year, came at the same time as worldwide unit shipments for the 2013 increased by 3.2% to 9m units, according to IDC.
Both of the analyst houses noted that one of the market trends that was hurting established vendors was the growth in white-label servers, which were being used by some of the data centre hungry customers like Google and Amazon.
When it came to the market's household names IBM suffered in Q4 with its market share shrink by 26.8% according to IDC in a quarter that came before its decision to sell the x86 business to Lenovo.
Despite a weak Q4, making it a full year of declines, IDC was looking ahead to some more activity in the market this year as customers started to refresh their hardware.
"While a record number of servers shipped in 4Q13, the market was constrained by weak demand for midrange and high-end systems. The market continues to be impacted by enterprise focus on 2nd platform workload consolidation, which at this point in time is only partially offset by 3rd Platform hyperscale server deployments around the globe," said Matt Eastwood, Group Vice President and General Manager, Enterprise Platforms at IDC.
"2nd Platform workloads continue to represent a healthy profit pool for server vendors targeting consolidation opportunities across the market. However, new profit pools in the 3rd Platform are emerging that create new market opportunities for OEMs and ODMs. IDC believes this market transformation requires increased focus from vendors in order to best capitalize on these diverging market trends," he added.
Gartner also tracked the same increase in unit shipments, up by 2.1% in 2013 year-on-year, and noted that for the vendors Europe delivered declining revenues and shipments were only significantly growing in the Asia/Pacific and Japanese regions.
"2013 presented some pronounced differences in various server market segments," said Jeffrey Hewitt, research vice president at Gartner. "We've seen ongoing growth in Web-scale IT deployments, while the enterprise remained relatively constrained."
"In terms of hardware platform types, mainframe and RISC/Itanium Unix platform market performance kept overall revenue growth in check," Hewitt added.