Ballmer voices regrets but keeps banging the drum
In one of his last calls with analysts the Microsoft CEO Steve Ballmer has voiced regrets about its phone strategy but talked up its powers of longevity in the market
Steve Ballmer has used one of the last analyst calls he will host as Microsoft CEO to bang the drum about the future of the firm as well as voicing regrets about his time in the driving seat at the vendor.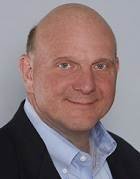 Ballmer admitted that there had been a slowness in Microsoft to react to the emergence of the phone platform, something that the recent Nokia acquisition showed is still an issue.
"If there's one thing I guess you would say I regret, I regret that there was a period in the early 2000s when we were so focused on what we had to do around Windows, that we weren't able to redeploy talent to the new device form factor called the phone," he said in the analyst Q&A.
"That would probably the thing I would tell you I regret the most, because the time we missed was about the time we were working away on what became Vista, and I wish we'd probably had our resources slightly differently deployed, let me say, during the early 2000s. It would have been better for Windows and probably better for our success in other form factors," he added.
But he also used his time with the analysts to urge support for Microsoft and said that the vendor was going to be a giant in the market for years to come because it had the ability to flex muscles that most other rivals, apart possibly Google, couldn't match.
"So with Microsoft not only do you get what I would say is incredible short-term upside, albeit with some managed and kind of focused areas of risk, but you also get a company that has unique capabilities to shoot the moon, if you will, for the thing that would really create something that might generate 30, 50, 100 billion of new economic value, which at the end of the day when you invest in a company with enterprise value of 200 billion plus, those are the kind of opportunities that have to look interesting and attractive to you."