RF Code adds mobile datacentre management capabilities
Datacentre environment monitoring and asset management specialist RF Code courts resellers with new management capabilities for iPad, tablets and smartphones
Real-time asset management and environmental monitoring provider RF Code has launched what it hopes will be a powerful new services tool for its channel partners in the shape of an asset management software application to extend datacentre management options out to mobile devices.
Its new app, Asset Manager Mobile runs on both iOS and Android devices and is designed to give users easier access to find, browse, view, add, edit and delete assets and sensors.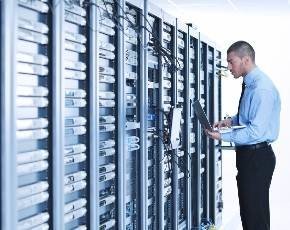 The app provides a global search feature to access any location, asset or sensor defined in the system, while alert conditions such as security violations, elevated temperature or humidity readings are also sent directly to Asset Manager Mobile, enabling immediate, proactive responses to critical issues.
With a core portfolio built around RFID tag based tagging solutions, Texas-based RF Code has been quietly forging a path in the datacentre management space for several years, and has built up a portfolio of big customer names including Bloomberg, eBay, IBM, Lloyds Bank and Vodafone, among others.
RF Code VP of marketing and strategic partnerships, Richard Jenkins, said that beyond the enterprise market, heightened awareness in cloud and growing concerns around data volumes meant datacentres were becoming more interesting to SMEs and hence to VARs looking to add more services to their portfolio.
The addition of mobile management functionality would form an additional services sale for both new and existing resellers, said Jenkins.
"From a reseller or service provider point of view there are a number of opportunities. Obviously there is always new kit being bought, so they can tag it, then there's the integration opportunity," said Jenkins.
"I'd position it as an opportunity to provide services at very low cost to a customer, with recurring revenues built in," he added.
RF Code claims to see an average ROI of under 12 months on its solutions, and according to Jenkins has apparently seen some customers actually make money from deploying its solutions as part of their asset management and tracking strategy.
Read more on Infrastructure-as-a-Service (IaaS)