Microsoft CEO Steve Ballmer to step down within a year
Microsoft has announced the retirement of CEO Steve Ballmer
Effervescent Microsoft CEO Steve Ballmer is to retire from his post within the next 12 months, after appointing his successor, Redmond has said.
Microsoft has moved quickly to appoint a special committee to direct the process, chaired by lead independent director John Thompson, and including chairman of the board and company founder Bill Gates.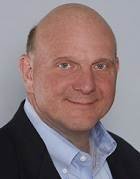 Both external and internal candidates could be up for one of the industry's most prestigious positions, Microsoft said.
"There is never a perfect time for this type of transition, but now is the right time," Ballmer said. "We have embarked on a new strategy with a new organization and we have an amazing Senior Leadership Team.
"My original thoughts on timing would have had my retirement happen in the middle of our company's transformation to a devices and services company. We need a CEO who will be here longer term for this new direction."
"The board is committed to the effective transformation of Microsoft to a successful devices and services company," Thompson said. "As this work continues, we are focused on selecting a new CEO to work with the company's senior leadership team to chart the company's course and execute on it in a highly competitive industry."
"As a member of the succession planning committee, I'll work closely with the other members of the board to identify a great new CEO," said Gates. "We're fortunate to have Steve in his role until the new CEO assumes these duties."
Ballmer joined Microsoft in 1980 as employee number 30, having dropped out of California's Stanford Graduate School of Business.
He rose to the position of president in 1998, and was appointed CEO in 2000. Since then he has presided over a period of massive growth at Microsoft, almost tripling revenues.
More recently he oversaw the company's transition from its Windows-centric heritage into the world of services and cloud computing.
However in recent months Ballmer had become the focus of much criticism of Microsoft, particularly with regard to high-profile missteps around the launch of Windows 8 and the Surface device family.
Around the industry, Ballmer may perhaps be best remembered for the more exuberant side of his personality, becoming the star of several viral YouTube videos.