Ballmer outlines vision of unified Microsoft
Microsoft's CEO Steve Ballmer has sent staff a memo where he outlines a strategy of developing a more unified company
Steve Ballmer has promised to make Microsoft easier for partners and customers to work with as he outlines a company reorganisation that is designed to unify the company.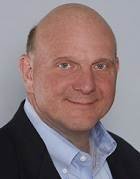 The CEO of Microsoft sent a memo to all staff outlining his ambitions for the firm revealing that he wanted to unify many of the different parts of the business to ensure that there was a single message coming out of the vendor.
"Going forward, our strategy will focus on creating a family of devices and services for individuals and businesses that empower people around the globe at home, at work and on the go, for the activities they value most," he stated in the memo.
"Improving our performance has three big dimensions: focusing the whole company on a single strategy, improving our capability in all disciplines and engineering/technology areas, and working together with more collaboration and agility around our common goals," added Ballmer.
He highlighted the benefits of taking such an approach for partners and customers as well as internally as it would focus minds on a core strategy of supporting its devices and products: "We will reshape how we interact with our customers, developers and key innovation partners, delivering a more coherent message and family of product offerings. The evangelism and business development team will drive partners across our integrated strategy and its execution. Our marketing, advertising and all our customer interaction will be designed to reflect one company with integrated approaches to our consumer and business marketplaces."
The broad engineering strategy for the firm will be around four areas according to Ballmer: OS, Apps, Cloud, and Devices.
"Together, we have created great products and great success, but we all want more. That means a strategy to deliver a family of devices and services that best enable people for the activities they value most and the enterprise extensions and services that are most valuable to business. A new structure to bring these to market faster. Stronger centralized services so we can be more efficient and effective. Priority focus areas, short and long term. New characteristics of how we work together. In other words, better execution and innovation through strategy and goal and discipline and engineering coherence," he summarised.
Read more on Channel Partner Programmes