Ballmer talks of love and reimagination as Win 8 arrives
Microsoft's CEO Steve Ballmer took to the stage at the launch event in New York and said that Windows 8 would allow users to love using their PCs as he ushered in the latest OS
Windows 8 finally arrived last night with Microsoft talking of re-imagining its operating system and helping users fall in love with their PCs again.
The build-up to the launch has been a fairly mixed affair with analyst house Gartner downbeat on the chances of the software making an impact in the corporate world and OEM hardware partners expecting a consumer rather than business surge of interest.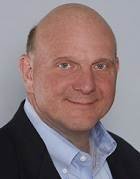 But as Steve Ballmer, CEO of the software giant, took to a New York stage to kick-off the launch, the talk was about tablets, touch and the vendor's Windows app store.
"We have reimagined Windows and the result is a stunning lineup of new PCs," said Ballmer. "Windows 8 brings together the best of the PC and the tablet. It works perfect for work and play and it is alive with your world. Every one of our customers will find a PC that they will absolutely love."
Some of the initial reactions from the market were positive because of the nod to consumerisation the latest OS takes as well as the improved security features.
"Microsoft's launch of its new Windows 8 operating system and Surface tablets are a sign that Microsoft is taking consumerisation and user demands seriously – and puts the money where their mouth is on their 'devices and services' company focus," said Chris Lim, practice manager - Microsoft technology services at Trustmarque.
He said with XP support running out in April 2014 there was a chance to talk about transition strategies with users still on that platform.
"What Microsoft's Windows 8 and Surface tablet launch means for businesses is that they should evaluate whether they have a strategy and ability to support a hybrid environment of both Windows 7 & 8. Most organisations have current plans for a Windows 7 enterprise desktop and have been working hard on application rationalisation, packaging and app virtualisation. Will Windows 8 stop these plans? No. May they need to ensure these plans are flexible enough to support Windows 8 devices too? Faster than you think," he said.
Elsewhere there were thumbs up for the added security features that are incorporated into Windows 8, including better measures to fend-off malware.
Wolfgang Kandek, CTO of Qualys, said Windows Defender, Microsoft's Anti-Malware solution was now more comprehensive and is included by default in Windows 8.