How consumer trends are shaping UC for business
March's UCExpo trade show in London provided a forum for industry representatives and customers to come together and discuss the growing influence of unified communications (UC) on the working environment and learn how to take advantage of this technological shift.
March's UCExpo trade show in London provided a forum for industry representatives and customers to come together and discuss the growing influence of unified communications (UC) on the working environment and learn how to take advantage of this technological shift.

Download this free guide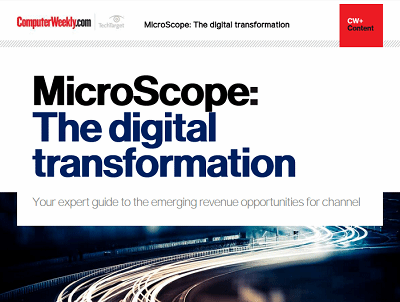 Emerging revenue opportunities for the channel with digital transformation
Digital transformation is a phrase that means many things to many people but for it to have any real relevance to the channel then it needs to mean a chance to make money. This guide will share some of the recent developments in the channel and the latest thoughts about the issue.
At the show, a panel comprising speakers from major communications and networking vendors debated aspects of the unified comms sale, agreeing that in many cases the marketing messages surrounding it were too complex and exploring some of the major trends impacting it.
The smartphone effect
It has been impossible to talk to anyone in the mobility industry over the past few months without the increasing importance of smartphones coming up in conversation.
This market has long-existed thanks to RIM's BlackBerry line-up, but the launch of Apple's iPhone has sent it into the stratosphere. Other vendors are now launching equally sophisticated offerings in response, with Google's Android platform emerging as the OS to beat.
Vodafone Business Services head Chris Holmes is convinced smartphones and mobile devices must form an integral part of any business' UC strategy. "Adoption is being driven by the desktop moving onto those devices with office productivity tools, and I believe communications and IP will go that way too, driving more functionality around collaboration," he says. "All vendors are heading in that direction, it will drive UC adoption."
The rise of the smartphone is symptomatic of another trend that is becoming more widespread in the connected world - the use of consumer applications and technology in a business setting.
The iPhone has much to answer for, with people getting hold of multifunctional mobile devices for use in their personal lives, and then starting to use them in their professional lives once they see how useful they can be.
"That is the main driver for mobile e-mail in my view," says Lee Shorten, UK and Ireland managing director at Avaya. "People got personal value out of it first and now want to use it in the office."
But Peter King, Office Server Group director at Microsoft, believes consumerisation presents challenges in terms of managing the demands of different elements of the workforce.
"Organisations have to balance the needs of their current talent while attracting new talent," he says.
"Graduates, for example, expect to interact in similar ways to in their private life, so our challenge is to allow that to happen in a safe and agile way. Serving your workforce like this is a far better place to start than just flinging consumer technology at them," he adds.
The rise of generation Y
Much has been made of the entrance of these recent graduates to the workplace. Whether you prefer to call them digital natives, generation Y, or millennials, the fact of their existence cannot be denied.
This generation is painted as one that grew up using IT - specifically social networks - in their daily lives, and for some time now businesses have been warned that they must adjust to the demands of the under-30s. Many take this to mean unfettered access to Facebook and Twitter should be the norm, and there is a strong case for using both of these within the working environment.
"If you close down access, people will find a way of using [social networks], so it is better to accept that fact and manage it rather than turn a blind eye," says Shorten at Avaya.
Although it is clear that social networks need to be managed and monitored to ensure productivity and security, it is through extracting and exploiting certain elements of the social networking experience that the industry hopes to apply the benefits of Facebook et al to the UC experience.
"Elements of Facebook can be applied to the business environment, such as getting hold of people in the context of the work that they do, which is very important to businesses," says Mark Summerson, UC general manager at BT Global Services.
"Facebook allows sharing of knowledge and expertise through communities," says Brendan Buckingham, UC leader at IBM. "Rather than actually using Facebook ourselves, we have taken those capabilities and turned them into tools that allow us to share within the organisation.
"We have 375,000 users within IBM. I don't know most of them, so being able to search and locate by function and decide if I want to communicate with them is a very powerful tool. I think software vendors are starting to recognise that," he says.
King at Microsoft concludes that managing the user's expectations of what UC should be is key to a successful implementation. "It needs to be about capabilities delivered within the organisation rather than consumer-led tools. However, organisations are challenged because users can consume technology in a far richer and easier way," he says. "If you can't provide that experience to your users, then they are empowered enough to go out and get it for themselves."
Read more on Network Infrastructure Solutions and Services