Beat the recession with DAB radios
One addition resellers might be wise to make to their product portfolio is DAB digital radios. These products look different, have a degree of topicality and are very popular with users.

Download this free guide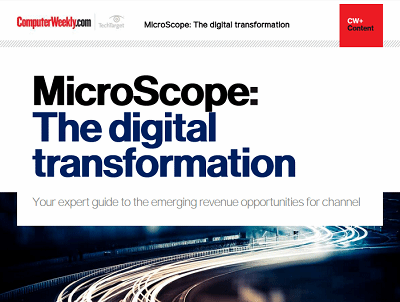 Emerging revenue opportunities for the channel with digital transformation
Digital transformation is a phrase that means many things to many people but for it to have any real relevance to the channel then it needs to mean a chance to make money. This guide will share some of the recent developments in the channel and the latest thoughts about the issue.



One addition resellers might be wise to make to their product portfolio is DAB digital radios. These products look different, have a degree of topicality and are very popular with users.

One reason for digital radios being a sensible choice is that they now stream over a wireless network, which makes them a clear technology sale. The products are also starting to merge with other forms of digital technology in the consumer electronics and prosumer market.

Another reason it that these items are incredibly desirable. Recent research by UK radio body Rajar showed that more people are listening to radio now than ever before.

The number of people turning to digital technology is continually increasing, and as a result a reseller carrying some sexy models will attract new customers.

When it comes to choosing a DAB radio, one of the leading names in the market is Roberts. The company sent in a couple of models for Tech Trader to cast an eye over – the Sports Dab and the solarDAB.

Sports DAB

The portable Sports DAB is the sort of product that most cricket and football fans have been waiting for – a pocket-sized radio that picks up digital sports radio stations.

The one concern we had at first glance was whether battery life would let the product down. But, having fully charged the battery, we used it on and off for a few days with no battery issues. If anything, the fears about DABs and batteries have probably been overstated and can be consigned to the history of the first editions of these products.

Using the headphones as an aerial, the Sports DAB quickly picked up more than 30 stations. It also features the option to switch to FM if required.
Sound quality is excellent and the unit is straightforward to use, so thumbing through the instruction book is not really necessary.

For those users who have already grasped the concept of the iPod, this is not only a product that looks and feels similar, it also plugs the gap in terms of providing radio.

solarDAB

The second model, the solarDAB, is also portable, but has an different take on the battery issue – it uses solar power.

Again, we fully charged the unit from the mains initially, and then left the sun to do the rest. After three weeks of at least 90 minutes' use per day, it is still going strong.

Available in a choice of colours, we opted for the green as this is an eco product. It features a solar strip on the top of the radio which picks up the sun's rays.

Its simple to configure settings allow you to listen to your favourite radio shows by just rotating and pushing a couple of knobs.

Not only is this radio ideal for those who care about the environment, it is also a useful gadget for anyone who is likely to be away from a power source for any length of time but still wants to keep up to date with the progress of Crystal Palace as they slide down the league table.

Give customers choice

The real message here, as shown so clearly with the Sports DAB and solarDAB, is that there are numerous products to suit different customers' needs.

Resellers can extend their armoury and add colour, topicality and revenue by choosing a product group which seems to defy the downturn and continues to grow.

Thinking slightly outside the box can help resellers find additional markets in these tough times.