Resellers' guide to surviving the downturn
MicroScope got together with the great and the good to ask the simple, yet often elusive question: "Which technologies and services should the savvy reseller be avoiding as we hurtle towards 2009?"
MicroScope got together with the great and the good to ask the simple, yet often elusive question: "Which technologies and services should the savvy reseller be avoiding as we hurtle towards 2009?"

Download this free guide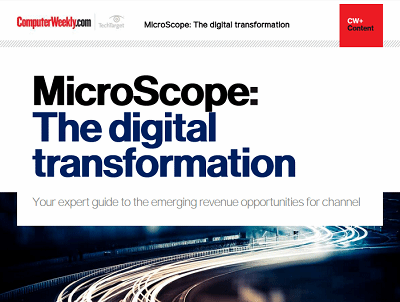 Emerging revenue opportunities for the channel with digital transformation
Digital transformation is a phrase that means many things to many people but for it to have any real relevance to the channel then it needs to mean a chance to make money. This guide will share some of the recent developments in the channel and the latest thoughts about the issue.
By submitting your personal information, you agree that TechTarget and its partners may contact you regarding relevant content, products and special offers.
You also agree that your personal information may be transferred and processed in the United States, and that you have read and agree to the Terms of Use and the Privacy Policy.
Of course, a little guidance of which technological direction to be facing would not go amiss either. Our panel of experts did not let us down, and the answers were as informed and thought-provoking as we expected, if a little surprising in places.
After all, the technology market, perhaps more than any other, is always producing new and exciting products that can make for an attractive sales opportunity, while at the same time confining that which it replaces or upgrades to the reseller dustbin.
Even in times of economic crisis there is always some margin to be made. The key is understanding the digital natives.
Understand the digital natives
"Choosing the technology that is right to implement and the technology to be ignored can be a tricky task," says Barrie Desmond, business development manager at VADition, with more than a little understatement.
The reseller needs to be aware of how working practises have changed with the flood of digital natives - those workers for whom Web 2.0 collaboration and social networking are a given rather than an enigma.
"These people expect these tools to be available when they step into the working environment," Barrie Desmond warns.
So when it comes to identifying a dead duck, he has no hesitation in telling us, "Resellers who focus on providing technologies that prevent collaboration rather than embrace, manage and control it, will not survive in today's competitive market."
Indeed, any technology that does not actively embrace collaboration or advocate simplification of business processes, alongside providing an opportunity for resellers to gain greater margins or add value are the technologies that you should steer well clear of, Desmond says.
Scott Murphy, a senior pre-sales consultant at Bell Micro, is not so sure that the channel has seen any truly dramatic technology failures this year.
However, he has been keeping a keen eye on the market and identifies one or two technologies that could be filed under "of possible concern".
"We have seen Super Digital Linear Tape lose massive market share to Linear Tape Open as the de-facto enterprise tape drive," Scott Murphy says. "Direct attached storage is one to watch; while still popular in the SMB space, the shift towards server virtualisation is driving the requirement for more affordable shared networked storage."
Perhaps slightly more contentiously, continuous data protection has not had anywhere near the uptake the channel might have liked to have seen this year. "This does not mean it is dead, but it certainly should be treated with caution," Murphy says.
NAC is one to avoid
Alex Raistrick, director, Northern Europe at ConSentry, has no qualms about naming and shaming two technologies the reseller should give a wide berth if they want to remain competitive.
Alex Raistrick says network access control (NAC) is one to avoid. "The recent demise of the likes of Lockdown Networks has proven the market has been unsuccessful and is now merely a feature, not a standalone product," he says.
The second group of technologies on the Raistrick hit list are vanilla layer 3/4 switches that have no inherent understanding of users, user roles, devices, applications, or the interplay of these factors.
"Limited functionality adds no value to the end user and will not allow the reseller to get strategically involved with their customers," Raistrick says. "Legacy switches do not have any intelligence, control or visibility of network activity, and as a result cannot support enterprises in their compliance initiatives."
He says, next-generation layer 7 switches have NAC and intelligence built-in, which provide far more value and opportunity for resellers.
Icann mixes things up
Ed Rowley, technical consultant at Marshal, has been thinking about the impact that the Internet Corporation for Assigned Names and Numbers' (Icann) decision to open up the internet's top level domain names to the highest bidder is going to have on business.
The change makes it possible to break free from the constraints of the .com and .co.uk style domains and effectively register any combination of letters for a domain name, and that includes pretty much anything, so long as it is legal and inoffensive.
Hundreds of new domain names could be online by the end of this year, with thousands more anticipated thereafter.
The short-term impact of Icann's decision to allow an infinite number of domain names is that it will force major brands to get involved in a bidding war for all the domains that could impact on both their visibility and reputation on the web.
Surely this sounds like a good thing? Ed Rowley is not so sure.
"The increased security risk is likely to be the most serious long-term consequence of Icann's change," he warns. "The new domain names will create a whole new playing field for spammers and add to the pressures of securing the web gateway against malware."
This is where the dead duck technology rears its head, in the form of lower-end URL filtering-based gateway security products.
"Our advice to the channel is to steer clear of low-end web-filtering products that rely solely on URL-filtering," says Rowley, warning that the Icann change will make it very difficult for the "bad address" method of blocking malware to work effectively.
"The infinite number of domain names that will be available to wealthy cyber criminals will force exponential growth in these databases and will make the lower-end URL filtering-based products a lot less effective," he says.
"Icann's change will create a need for secure web gateway products that can provide real-time analysis of web content for correct categorisation of the sites that users are trying to access."
Evolving role of the reseller
There were few dissenting voices when we steered our conversations towards the resellers themselves, asking what they need to do to ensure they survive what is undoubtedly a bumpy road ahead.
The buzzword was "evolve" and most people were talking about the reseller as some kind of technology and business guru - the trusted advisor role.
This is nothing new, the savvy reseller has long since worked out that by adding value you build a better relationship with the customer. But now is the time to exploit yourself as the added value in the sales equation, delivering your knowledge of the market, of vendors and of the technology directly to customers.
There is a fine line between the reseller as trusted adviser and becoming a full-blown consultant, and the successful reseller will find the right place within this procurement balance without ever crossing the line.
Whether this is achieved through software-as-a-service dragging value-added white label services into the 21st century, or something more akin to software-plus-a-service by providing bolt-on maintenance and support is entirely up to you. But adopting one or the other, or perhaps a combination of the two, is looking like a smart move for the -reseller.
Crisis, what crisis?
Of course, it is traditional to finish on a happy note and so we will. Despite all the economic doom and gloom, some resellers are not convinced sales need to slide down a slippery slope at all.
In a survey of some 4,700 businesses, WStore found that an incredible 65.8% were expecting an increase in turnover by the end of the year, and 18% were not expecting any change from 2007.
Most importantly though, 44.7% expected IT-specific spending to increase during 2008.
Recession 101
It cannot have escaped anyone's attention that the country is heading towards a recession.
The credit crunch continues to bite, oil prices continue to rise, and retail optimism is falling like a brick attached to an elephant.
But it is not all bad news, according to Vectra IT CEO Neil Robertson. "There is a real opportunity for agile resellers to take advantage of financial gloom and doom," he says. "Financial directors are under increased pressure to take control of their company spending, creating new opportunities for traditional accounting resellers.
"In the 1990s, the UK entered a recession with the immediate impact that a very significant number of businesses looked to change their accounting software. In 2001, the market downturn and dotcom bust again hit businesses causing yet another drop in businesses purchasing accounting systems. Just nine years later, history seems set to repeat itself."
So, facing a recession, resellers could be set to lose as much as 40% of new sales, leaving them to fend off other businesses targeting those who remain in the market for accounting solutions.
"Hard times also open up new opportunities for the channel as businesses look to better manage their money by consolidating their suppliers and increasing productivity," says Robertson.
"E-procurement software can be seen as an extension to accounting solutions and offers itself as a lifeline for accounting customers as the market gets worse, and could potentially offer them a way of prospering once the market improves."
Looking back, looking forward
The last time we ran one of these dead duck features, which was back in 2006, the plague-carrying technology of the moment was the PBX solutions market.
We said that both the financial and business arguments for VoIP were so compelling that approximately 40% of mid to large scale enterprises were already in the process of implementing a voice and data convergence strategy, and smaller business was following suit as far as demand was concerned.
"IP telephony has the power to fundamentally change the way businesses work forever," we said.
It is no surprise that this prediction has been realised.
With voice churning rapidly and margins on data services narrowing, Andy Horn, a director with the UK SME division of Colt, warns , "Many of the comms resellers we work with are looking at new ways to diversify and grow their business in a fiercely competitive marketplace."
We also warned, perhaps a little less successfully, that the Tablet PC was a doomed technology. We said, "The aassimilation of an alternate technology by a single feature does not a market make. And while most manufacturers would, albeit quietly and off the record, admit that the tablet is useless, they took that one useful feature to claim success for the whole genre."
OK, hands up, the Tablet PC is not dead and there are still some new products coming to market, but it has not set the world on fire some seven years after hitting the market.
Those resellers expecting to turn a big profit from selling Tablet PCs should probably consider stocking CRT televisions and leasing gas-guzzling cars while they are at it.
Read more on Sales and Customer Management