Essential guide to desktop virtualisation
VDI has become an increasingly popular option for IT leaders
Introduction
Desktop virtualisation technology was around for many years before it began gaining significant adoption. Common challenges formerly cited included complexity, storage costs and the impact on network bandwidth. But today's virtual desktop infrastructure (VDI) products have addressed those issues, and VDI has become an increasingly popular option for IT leaders who want to deliver mobility, security and ease of management for their users across multiple devices. In this guide, we look at the latest trends in desktop virtualisation.

1

Best practice advice

-
Virtual desktop strategy
Is VDI right for you? Read experts' advice on choosing the right strategy for your desktop virtualisation projects
E-Handbook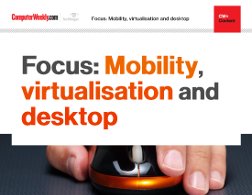 CIOs are now accustomed to letting employees access company information on their mobile phones and tablets, and using these devices to carry out business-critical tasks on the go. But that wasn't always the case. Not that long ago, many IT leaders scoffed at the idea of letting their staff store and access commercially-sensitive information in this way because of credible concerns about what would happen to their data should the device be lost, stolen or hacked. Since then, mobile security technologies have come on leaps and bounds, but enterprises have also turned to virtualisation to protect their data, and ensure their infrastructure can cope with the growing number of end-points connected to it. In this e-guide, we share details of how mobility and virtualisation has helped organisations in the publishing and manufacturing industries meet their business objectives, while taking a look at some of the broader industry trends playing out in these technological areas. Continue Reading
E-Handbook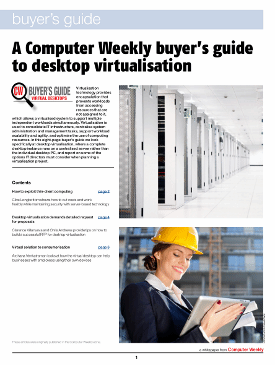 In this eight-page buyer's guide we look at desktop virtualisation and identify some of the options IT directors must consider when planning a virtualisation project. Continue Reading
Blog Post
In this guest post, Kevin Cooke, product director at desktop virtualisation software provider Liquidware Labs, explains how CIOs and IT departments can avoid playing the blame game when working out ... Continue Reading
2

VDI in action

-
VDI case studies
How are organisations using desktop virtualisation and what benefits are being achieved? We talk to VDI users to find out

Download this free guide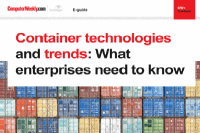 Container technologies and trends: What enterprises need to know
In this e-guide, we take a look at how and why enterprises are tapping into containers to bolster the business agility of their IT infrastructure and application estates, and some of the latest thinking about how best to utilise container technologies.
3

Technology choices

-
Hardware and software considerations
Decisions around storage, software and desktop hardware can have an important bearing on the success of your desktop virtualisation project
4

VDI technology issues

-
Tackling common desktop virtualisation problems
VDI projects often raise questions around performance, systems management, and the role of the PC - but answers are at hand