Lord Harry Renwick - Tech Visionary and Catalyst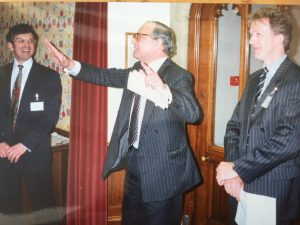 There are those who write papers predicting the future. There are prophets whose followers demonstrate noisily and delay change by getting in its way. Far rarer are those who envision the future and gently beguile those around them to discover it for themselves and work together to bring about the best and avoid the worst.
Lord Harry Renwick had the dyslexic gift of envisioning complex technologies and grasping their implications, long before others, without offending those who could not understand how he did so. As chairman of the British Dyslexia Association from 1977 – 82 and subsequently a Vice President he also helped a generation of those at the cutting edge of technology to appreciate the need to identify and harness the talent of potential Faradays, Einsteins, Teslas, Edisons, Churchills, Pattons (and Bransons) rather than exclude them from mainstream education – as too expensive to diagnose and then too disruptive. His maiden speech in the House of Lords in 1975 cannot be bettered as an introduction to the plight of those (especially those from BAME communities) who are still, today, more likely to end up in Feltham Young Offenders than have their talents recognised and harnessed.
Envisioning the Future
My own favourite memory of Lord Renwick is from 1994 when he persuaded Nortel, then leading the world into the future, to host a short residential conference on "Envisioning the Future". Thomas "In the Minds Eye" West introduced discussions which ranged from the past, present and future of deep-fakery (both analogue and digital), through techniques of using technology to display complexity (including that based on big data) to the way the industrial tectonic and geo-political plates were changing, with the resurgence of those who had been running complex civilisations for several millennia longer than Western Europe or North America. I plagiarised the material for my entry for the Conference to celebrate the 50th Anniversary of LEO, the world's first business computer. The task was to predict the next 50 years of Business Computing. I put my entry on-line again in 2016 when the LSE filed its digital archives off-line.
Stimulating debate on the need to put London at the Heart of Global E-Commerce
In 1997 Lord Renwick had already used some of the insights from that event to inaugurate a debate in the House of Lords by asking the new Labour Government "What steps they intend to take to ensure that the City of London remains the leading centre for world-wide electronic commerce in the face of United States government initiatives intended to ensure that Internet-based commerce is conducted under US law and to US security standards?". He went on to say "We hear much talk of the global information society of the future but most of those planning that future appear to assume that the language will be American, the values those of Hollywood, and the legal framework that of Perry Mason"
He was still waiting for an answer, from the current Government, when, after concealing a long and painful illness from others, he finally succumbed to Covid-19 on August 2nd. Earlier this week the current Sheriff of London, Michael Mainelli (chairman of the Real Time Club five years after Lord Renwick) chaired a City Livery Company meeting on Internet Governance which shows how much/little the world has moved on.
I am delighted to know that Lord Renwick's many admirers are planning an annual lecture series in his memory, with the aim of picking up on some of the themes he championed.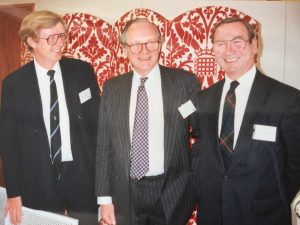 The Second Baron Renwick flanked by Ian Bruce MP (Conservative) and John McWilliam MP (Labour), the other founding directors of what is now the Digital Policy Alliance.
Introducing all party legislation to address Telecoms Fraud
We are today facing a plague of telephone fraud directly analogous to that addressed by the Telecommunications (Fraud) Bill which Lord Renwick introduced into the House of Lords in January 1997 with support from Baroness (Brenda) Dean . His fellow EURIM/DPA co-founders, Ian Bruce (Conservative) and John McWilliam (Labour) then led for it in the Commons. It then passed after less than ten minutes debate. Harry himself avoided telecoms fraud by using a Blackberry, supported to the end by Michelle Field, even after she retired from BB World , set up after she lost the name "Blackberry World" for the UK's most popular support service in a pyrrhic victory for trademark protection by a then major vendor.
Catalyst not Pundit
He wrote no books and disliked public speaking. Instead he changed the behaviour of those around him. He did not tell them what to do. He used the visionary insights that go with dyslexia to bring out the best in people and get them to not only think creatively and constructively but to enjoy working together. He then left them to it, save for gentle questions when they got bogged down. He was a true catalyst, bringing about change, while himself remaining unfailingly charming and positive. In consequence others took the credit for what he set in motion.
He could charm the birds from the trees and read the body language of those who did not sing. Despite, perhaps because of, his dyslexia he was also a superb editor and meticulous proof-reader (but one pass only!). He looked for arguments that would capture the hearts, not just minds, of the audience. He was a joy to work with, once you realised you had to protect his interests as well as your own, without offending him. He was generous to a fault but no mere do-gooder. It was simply that he was not money-minded or motivated.
Early champion of educational technology to harness neglected talent
He was among the first to recognise that neurodiversity should be seen as a source of creative talent to be harvested, not disruption to be suppressed. His maiden speech in February 1975 in the House of Lords was on the importance of literacy to those with dyslexia. He became chairman of the British Dyslexia Association in 1977. One of his first activities was to raise funds to pilot what became their Contact magazine. He then helped initiate the first International Conference and the World Dyslexia Network Foundation to pull together the research that is now beginning to bear fruit. After he handed over the chair in 1982, he remained involved and was personally responsible for persuading many High Tech companies to seek, recruit and foster those who went on to help their employers innovate and prosper.
He also one of the first Parliamentarians to recognise the power of educational technology: using computers in schools to enable growing minds to control their own learning process, not just for drill and practice. In 1981 he was one of the founding members of the Parliamentary IT Committee, PITCOM. A year later PITCOM organised an exhibition of 22 computer systems (running off three 13 amp sockets!), manned by relays of schoolchildren, with over 160 MPs and Peers signing in to watch those from their own constituencies, showing what could be achieved. His contribution was to help prevent the House Authorities from blowing a fuse. It was not just the primitive power supply. The building then had only 3 ladies' toilets and no children's facilities. Then came the "computers in schools" programme and he became a board member of the National Council for Educational Technology which led the way until it morphed into BECTA
And of carbon sequestration technology to help address climate change
Lord Renwick was also a one-man technology transfer operation, spotting the potential of unfashionable technologies long before others and trying to help bring them to market. One of his failures was the use of biotechnology for carbon sequestration. Dr David Wright had demonstrated a system that was not only theoretically possible buthad been proven under lab conditions. They spent several years trying to organise a full-scale field trial in Western Australia. But they faced determined opposition from a scientific establishment that apparently did not want the American to think there might be low cost technology fixes which bypassed their BIG research programmes. Ca Va.
Was it nature, nurture, sense of duty or how he responded to all three?
His father, Sir Robert (later first Baron) Renwick had been one of the seven "British Businessmen" who met Goering on 7th August 1939 to try to avert World War 2. He later had responsibility for scientific intelligence (including the logistics of Bletchley Park) as well as radar research and production but was airbrushed out of history – after calling the BBC and The Times "World class propaganda operations compared to which the Germans were mere amateurs" when proposing a toast to unsung heroes, In 1946. They took umbrage instead of accepting the praise in the spirit it was given and swore never to mention his name again. His revenge was to organise the funding for the launch of commercial television, with Lew Grade as chief executive, organising the talent and content. He then received one of the last hereditary peerages in return for not writing his memoirs.
It was a great disappointment to Harry that there were no obituaries when his father died. But he did not react by seeking the limelight. Instead he organised for spotlights to be shone on those doing what he believed in. Given that he knew so many of those who had worked with his father on the early days of commercial television and their heirs, that put him in a powerful position. I remember when, during a break in a parliamentary dinner, he hauled me over to meet Michael Grade, whom he had known since their fathers worked together. No introduction was ever by chance but I was caught by surprise, did not live up to expectations and never did know what he had in mind.
The power of the (non-political) party
He hosted some of the best parties and receptions in London. But every event had an objective: fund-raising for the British Dyslexia Association, promoting Educational Technology (NCET, later BECTA), the European Digital Single market (EURIM, now the Digital Policy Alliance) or the more effective use of digital technologies (PITCOM and the Computer Weekly 500 Club). He also attempted to move Carbon Sequestration from laboratory to field trial, long before action on climate change became fashionable.
The first objective was always to make ensure everyone enjoyed themselves. The second was to ensure that the organiser followed up on the interests expressed by their guests. There was nearly always a third – to identify those would recognise dyslexia as a talent, not a disability, when addressing their own skills needs. Before events he would work his way through the invitation list to see who should be introduced to who and why. Then came the seating plans. No-one was to be sat next to those they could meet elsewhere, ideally they should be next to some-one they had never met but that he felt they should.
"You heard it first at the Real Time Club" was the motto of the world's oldest Computing/Digital dining club, alias clearing house for ideas and gossip, when I chaired its 40th Anniversary over a decade ago. Lord Harry Renwick preceded me as chairman by several years and for over a decade I had commonly heard it first from him.
He also advised the Computer Weekly 500 Club for many years, hosting well-attended receptions at which Parliamentarians could hear from the users (alias victims) of the major IT vendors, as opposed to their lobbyists.
Personal and Professional Life
Lord Renwick was born 10th Oct 1935, educated at Eton and spent his National Service with the Grenadier Guards before starting a career in the city with Morgan Grenfell in 1957. He moved to W Greenwell & Co in 1959 and stayed until 1980, becoming a partner in 1964. He was a Director of General Technology Systems Ltd from 1975 – 1993 and advised companies in the UK and the USA. He was impressed by the unique SAP approach to building systems around common customer needs and introduced them to many of their first UK customers.
He was passionate about cyber security and, as a leading evangelist for "security by design", from 2008 to 2015 he served on the International Advisory Board of Wave Systems. for whom he made numerous important contributions, including arranging think-tank lunch and dinner workshops on state-of-the art technologies and providing invaluable strategic advice and introductions to decision makers.
In 1965 he married Susan Jane Lucking. They had two children, Hon Robert James Renwick and Hon Michael David Renwick before they divorced in 1989. He then married Mrs Homayoun Mazandi (later UK Ambassador for Nowruz , former wife of Joe Mazandi, of Los Angeles, California, USA), daughter of Major Mahmoud Yazdanparst Pakzad.
He was a member of the House of Lords from 1973 until November 1999. His interests included the processes of innovation and change, the application of technology, space, communications and special educational needs.
In 1993 he helped bring the European Informatics Market Group (EURIM), created to make a reality of the mythical digital single market, alongside PITCOM (the intra-UK Parliamentary IT Committee) to organise the all-party Digital Policy Alliance, of which he remained President until forced to stand down for ill health. That was when we came to work most closely together: he as Chairman, myself as Secretary General.
I still remember the discussion over my title between Ian Bruce MP (Conservative) and John McWilliam MP (then a Labour party whip) over my title. Secretary General or General Secretary. Lord Renwick held the ring. The UN had one, the Communist Party the other – it was one of the wittiest and most informative exchanges on how different types of political organisations worked and how they wanted to be able to work together across all of them, left – right, open – closed, democratic – autocratic, to achieve results that all could live with.
I also had to be totally open about how we operated, everything available on the website so no-one could say they had been deceived or stitched up in how they were reported.
When he was unable to avoid chairing a meeting it could be like watching the Alan Whicker interview of Papa Doc. He combined wit, charm, a razor mind and subtlety, was liked and respected by all who knew him and, above all, was great fun to work with. He really did bring out the best in us all.