Inspiring women about IT is the responsibility of us all, says Emer Timmons, President, BT Global Services UK, finalist in the 'Leader of the Year – in a corporate organisation' category at the 2015 FDM everywoman in Technology awards.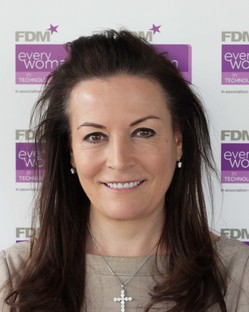 We all know there are not enough women in the IT industry, and an insufficient pipeline for the future. At 16 per cent, there are now slightly fewer female IT professionals in the UK than 10 years ago.
There is no upside to this situation. The shortage of women damages competitiveness, because British business can't find all the skilled people it needs. It affects the wider economy: increasing the numbers of women in the IT industry could generate an extra £2.6 billion a year for the UK [1] . And it hits women themselves: the lack of women in STEM contributes directly to the gender pay gap, which has widened to 13 per cent [2] .
To its credit, the government recognises that the situation is serious and is working hard to encourage more young women into science and technology with a range of educational programmes. But there is something we can all do, indeed, should do. Every woman, every man working in the technology industry must talk to girls and young women about the amazing opportunities of a career in IT.
As a member of the Women's Business Council, I get to speak to lots of female school and university students. So what do I say? I tell them that there is no glass ceiling in this industry and many paths lead to the top. I tell them that the money is good – the average starting salary for engineering and technology graduates is 16 per cent higher than for graduates overall. I point out that big technology companies such as BT practice what they preach with flexible working policies that allow women to combine a career with raising a family.
But above all, I tell them how much I enjoy coming to work. How profoundly satisfying my job is. I tell them that since I graduated with a degree in maths and economics, I've worked in sales, in marketing, in operations, in distribution and today have responsibility for millions of pounds of business. That I have a terrific team which helps top companies do bold and exciting work that makes the world a better place; how we helped BT make the most of its London 2012 Olympic & Paralympic Games sponsorship programme. I make it clear that my job is as much (if not more) about connecting with other people and solving problems as it is about technology. I want them to know that I love my job passionately – and they would love it too.
You don't have to be female to tell young women that they can have amazing careers in IT. All of us in IT, and especially those in leadership positions, must take responsibility for opening young female minds to the extraordinary possibilities of a future in technology. Government is doing a great deal; schools and higher education are doing all they can. But nothing beats the power of personal testimony.