Journey through a career in project-management in IT services (W-Tech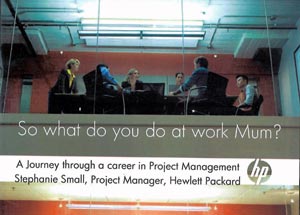 Speaker: Stephanie Small
Stephanie Small from Hewlett-Packard (HP) is going to take us on journey through a career in project management in this session – a career she admits she fell into, but nevertheless has really enjoyed! Stephanie is a career-changer, who started out in the airforce, but was forced to look for a new career when she began a family, thanks to (now-extinct) rules.
(Around now my laptop battery finally went flat… So the rest is post-blogged from my notes taken at the event…)
Stephanie's presentation was essentially an introduction to starting and building a career in project management.
What makes a good project manager?
Emotional, managerial and intellectual competencies.
Some clients will prefer candidates with domain knowledge.
Leadership skills – it's no good just putting a project plan up on Sharepoint – you need to inspire people to stick to it!
Project methodology knowledge helps in what is now a competitive market.
Understanding your own skill set – some people are better at starting up projects, others at pulling them together to completion; similarly, some revel in complex projects, so it makes sense for them to seek those out.
What are the key factors to think about when considering whether project managment suits you?
In project management, you never stop learning something new.
You'll generally have to balance the needs of two customers at all times: the client, and your company.
Expect the unexpected!
Project management is about people and processes more than technical knowledge (although a bit of that doesn't hurt), so…
…good communications and interpersonal skills are the key to succes.
What is project management not about?
The Apprentice! The 'project manager' role on the tv show isn't really project management – it's just task management. True project management is much wider ranging, and needs a broader set of leadership skills than some of The Apprentice candidates exhibit!
Should you take a course in project management?
Academic study is useful, although it's practical experience that you'll really need to get that first – or next – job. However, getting the training under your belt helps as there's a lot of competition, as most people will be qualified. Plus the courses will give you the language of a project manager.
OU M865 course in project management,
Certification schemes for particular methodologies, e.g. PRINCE2 (which starts with a knowledge-based module that can be studied prior to working experience) and PMP from the PMI (for which you have to have industry experience.
Practical tips on getting practical project management experience before you get the job
Secondments – in large organisations, you can try requesting a secondment to project work.
Project support services – working in a project office in a role such as risk management or scheduling can give you vital experience and an opportunity to see how the whole project team operates.
Volunteering – don't undersell the experience you've gained in voluntary proejcts, for example, running the drive to get your local Scout Hut refurbished.
Smaller projects – try asking to run small in-house projects that are lower risk.
What project management networks can you join?
The PMI, APM and BCS project management specialist group are all good places to start.
How do I move from a technical project management role to a business-focussed one?
Most companies are already looking at project management from a business perspective, but if yours isn't yet, try to find a mentor who can help you to learn about or shadow business/commercial aspects, such as project finances, contract negotiations, and so on.
Where next after a project management role?
Stay as a project manager – many people love the daily buzz of the job.
Take on larger projects.
Programme management (managing a number of projects that form a bigger programme).
Business leadership roles.
Pink alert! We were also treated to a brief glimpse of the video of HP's 'fashion meets technology' pink Vivienne Tam netbook – one of only two 'pink' items I saw on the day (the other was a butterfly on the cover of Suzanne Doyle-Morris' book…)

Final tip on career management for project managers – and others – remember that the time, cost, quality triangle isn't just a project management principle, it's a career management one too! Time and effort / cost are needed to achieve the quality!