Salesforce.com strike back at "evil empire", Microsoft fights on segways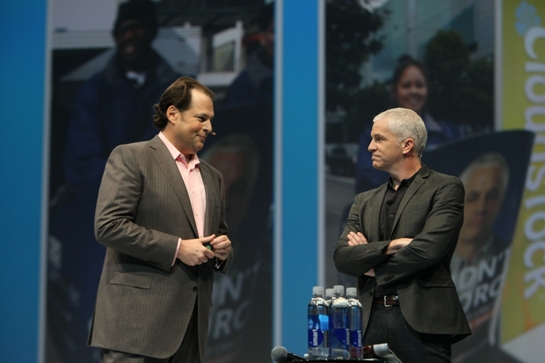 Marc Benioff, Salesforce.com's CEO, took a swipe at Microsoft at Salesforce.com's annual conference, Dreamforce, in San Francisco yesterday. But Microsoft fought back by hiring people to ride around on segways outside the Salesforce.com conference, with signs reading, "I didn't get forced".
Benioff presented other examples of Microsoft's anti-Salesforce.com advertising campaigns during his keynote, with adverts running the same message being placed in the Wall Street Journal and The Economist.
He then invited the actor, called Bernard, who featured in the ads to join him on the stage. Bernard emerged to the 'Empire Strikes Back' music and Benioff asked if he would "come back" to Salesforce.com.
The rivalry has been fuelled by Microsoft suing Salesforce.com earlier this year.
Microsoft recently invited Salesforce.com and Oracle customers to consider its 'Cloud CRM for Less' in an open letter, offering rebate of $200 per user switched to Microsoft Dynamics CRM Online between now and 30 June 2011.
Perhaps a dance-off would be suitable for the next round of the Salesforce vs. Microsoft battle?
See Marc Benioff dancing to Wil.i.am's DJ set at Dreamforce the day after Microsoft open letter was released:
[Image source: Salesforce.com]