Learning from mistakes - the success of ex-Govt CIO Watmore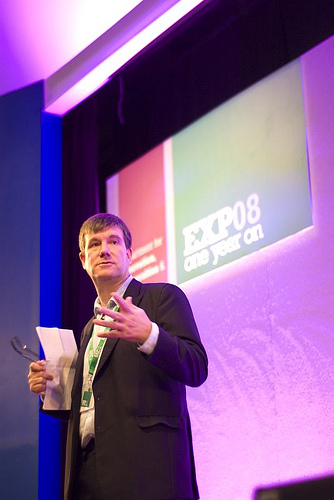 This is an editorial we have published in the print edition of Computer Weekly
[Picture DIUSGOVUK]
Computer Weekly is not prone to panegyric, but here we make an exception.
Ian Watmore is like a cool breeze entering a hot, stuffy room. He reached the top of his profession in the private sector, as UK managing director of international services company Accenture; he made it to the top slot for any IT expert in Government as chief CIO.
And he went further, becoming head of the No. 10 Delivery Unit and adviser to two prime ministers. It's a pity that on 1 June he left the civil service. He has taken his reforming zeal to the Football Association, as its chief executive.
The traits that mark Watmore out include his plain speaking and his lack of fear when taking sensible risks. More than that, he's open about past mistakes, analyses them, and tries to apply what he has learnt from them
At a committee hearing in the House of Commons last month MPs on the Public Accounts Committee were struck by his honesty, which is rare in senior civil servants who usually worry with every sentence said in public that they are dropping their minister in the proverbial.
At the end of the hearing the usually gloomy chairman of the accounts committee, Edward Leigh, went as far as to thank Watmore for his candour.
Like James Hall, his former colleague at Accenture who now runs the Identity and Passport Service, Watmore gives the impression that failure is a good thing if you learn from it.
He suggests that unless you've had enough experience of failure to have got the t-shirt you may not be the best person to run a big project.
This is a world away from the patronising, mollifying, abstract reassurances senior civil servants usually give to the committee.
MPs do not want to hear that "learning is on the agenda" or that methodologies are improving. They did absorb what Watmore said: that there are too many initiatives, and that innovative projects should be allowed to fail but fail early and cheaply. Too many failing projects are continued for too long.
They also listened when Watmore said that project leaders should stay in their roles longer, and that gateway reviews should be published.
None of this was surprising: Computer Weekly has been saying similar things for years. What is surprising is to hear these things articulated by a man who has led the field in government.
Could Watmore be cloned so that his like pervades government? No flim-flam. No verbiage. No abstract assurances and explanations. Just the unembellished facts, and success built on the foundation stone of failure.
Now, wouldn't that be a breath of fresh air?
How to fix Government IT Projects – Ron Rosenhead
Watmore tells why so many Government IT projects fail – Computer Weekly