Free software guru sanctifies Brussels bruiser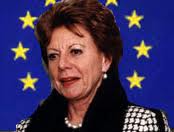 Free software guru Richard Stallman took time out of his European speaking tour this week to deliver a private sermon to Neelie Kroes, the official who imposed 2004 anti-competition fines on Microsoft before going on to champion open standards as Europe's Digital Commissioner.
Stallman gave Kroes the benefit of his wisdom in an hour-long meeting on Tuesday afternoon in which no-one else got much of a word in. He effectively gave one of his talks, said someone who was in on the confab.
Kroes was nevertheless welcomed being given the talking to. Stallman requested time with Kroes because she has achieved more than any other European official of what is dear to the free software movement, the guru told CW afterwards. Kroes wanted to meet Stallman because she was pleased for the opportunity to hear the doctrine straight from its source, said someone close to her now sanctified office.
"I said, 'I don't know how much you know about free software'," Stallman told CW after the meeting. "She said, 'Assume I know nothing'. So I talked…".
Stallman advised Kroes to stop the European Patent Office getting power to impose software patents when Europe finally unifies its patent system. He advised her that hardware manufacturers like Nvidia should be forced to release specifications so that anyone could interoperate with their products. He gave a précis of the spiel he delivered on the evils of e-books at a UNESCO conference last week. And he tried to persuade the Commissioner that file sharing – an item that is on the persecutory end of her policy agenda – ought to be permitted.
It sounded like the guru was pissing in the wind on that last matter. Not that his ideas fell on deaf ears (if you'll forgive that particular combination of metaphors).
Stallman is trying to find a way for artists to earn a living in a world in which people can easily copy their work that doesn't involve setting the dogs on file-sharers or putting internet service providers in the screws till they grass on their users. Despite giving appearances to the contrary, the man talks sense. But Kroes, being nothing if not fair herself at least within convention, has also granted meetings to rights collecting societies, internet content providers, ISPs, hardware manufacturers, telecoms giants and any number of money-grabbing nuts.
It has since Tuesday been said in Brussels in an orbit that passes not too distant from Ms Kroes' ear that Stallman's ideas are not easy, but not impossible.
Not that either party went into the meeting with any particular deal to clinch.
The reason anyone listens to Stallman is for the same reasons they listen to any priest: to learn what our conscience should be telling us when we are selling it down river.
As Stallman said when CW tried to get to the bottom of what material disadvantage society suffered when hardware manufacturers release proprietary software drivers…
"How would I know? It's a minor detail. A non-free programme is ethically wrong. It attacks your freedom and if you are wise you won't even consider using it.
"Compared with an attack on my freedom, I'm not really going to care much if it has some other drawback."
Truly, Richard Stallman is a priest of the Usonian order: Freedom and extra helpings of Apple Pie.
But did the Stallman's hectoring Kroes do any good? Perhaps, if he elaborated the why of free software better than he usually does.
The guru gives the impression he thinks free software is more intuitive than it actually is to people breathing a Microsoft atmosphere, while it's tempting to assume Kroes advocates free software more than she actually does.