Data regime makes merciless start on NHS privatization
The NHS medical director's knee-jerk reaction to data on children's heart surgery in Leeds bodes ill for the wider hospital review he got under way this week.
Yet another leak of misleading mortality data – claiming "2,500 needless deaths" at Basildon hospital – blew an unpleasant wind over the NHS Commissioning Board, the body doing the review and, since the coalition's NHS reorganization came into force Monday, the over-arching body of the new NHS.
Its first act was on the review, which by coincidence is looking at Basildon and 13 other hospitals where statistical data has indeed shown a higher rate of death than average… a higher rate, that is, among seriously-ill patients, many of whom are actually destined to die tragically quickly: and no, not needlessly; but quite naturally, and despite all efforts of doctors, nurses and medical science to save them.
Sir Bruce Keogh, NHS Commissioning Board medical director, marked the launch with details of how this data-led review will work.
But it was also a first look at how the new regime was preparing to nail the NHS down with a nationwide data "surveillance" programme.
Keogh set the tone for this last month when he issued a tyrannical order to suspend child heart surgery in Leeds, in another instance of NHS death statistics being blown out of proportion.
The NHS Commissioning Board has assembled crack squads of inspection personnel to try the surveillance programme out on the 14 other statistically aberrant hospitals on Keogh's list.
"A vast array of hard data and soft intelligence has been collated to build up a picture of quality across the 14 [Hospital] Trusts," said Keogh's statement on Tuesday.

"This information is being analysed to support the Rapid Responsive Review Teams in targeting their investigations.

"Any review team that identifies serious concerns it believes requires rapid action or intervention, will immediately notify the chief executive of the hospital trust and the relevant regulators."
It might sound reasonable that hospitals are inspected, and that inspectors act without prior announcement using as much data they can get. And indeed it is. And they already do, and have since long before the NHS Commissioning board began his own inspections. The Care Quality Care Commission did them, and did so apparently well enough when considered out from under the shadow of death statistics that had been blown out of all proportion.
Inspectors
But it is a dread wind that blows the Keogh review's inspection squads on their way. He drew up their plans amidst the misbegotten outrage over the Francis Inquiry into deaths of seriously-ill patients at Mid-Staffs hospitals. His review relies on the same overblown data. His suspension of heart operations at Leeds similarly misused a subset of the same statistics.
This haphazard trail of politicized statistics sets a terrible precedent: an alarmist response to data that had only ever warranted collegiate action. That is how it the NHS was treating it: as helpful intelligence for a complex system.
Before Mid-Staffs we already had a health data ecology that was more advanced than any in the world. It had evolved gradually as part of the NHS system. A veritable army of health data professionals collected and cleaned hospital data to be fed into a central computer, open to the public on the World Wide Web.
"There's always been outcomes data of one kind or another collected by hospitals," one of the world's leading health data academics told Computer Weekly on the condition they remained anonymous, for fear of reprisals.

"There's readmission rates, post-surgical mortality rates… What's been missing traditionally is patients' own assessment of their health. So from 2009 onwards there's been this scheme called patient reported outcome measures – PROMS.

"What makes it really remarkable, is it is the first health care system anywhere in the world to require hospitals to collect this data routinely.

"It's an astonishing set of data. And its being used very enthusiastically by hospitals because their results are there in a comparative way on the website, broken down by Health Authority, Commissioner and Trust. The data is being consulted by Commissioners already.

"The data is available, completely anonymised, even at the patient level, and available to download as spreadsheets. I've got colleagues in the US using those data in research projects.

"It is a vast amount of data. It's excellent data. Every patient that comes to hospital for elective procedures such as a hip replacement fills in a questionnaire on the day, and [another] six months later. They've got something like an 80 per cent completion rate on hip replacement operations.

"It is in a form where the performance of hospitals is really quite clear. The Department of Health has commissioned an enormous amount of research on how best to report the difference in performance between hospitals.

"There's a huge effort that's gone in, with a big effort from the academic community to make it work. I think its a real achievement by the Department of Health that they've done this innovative stuff in an international way."
That was from one of the world's foremost academics in the field – too scared to go public.
Their point was to explain how baffled they had been by a blusterous speech health secretary Jeremy Hunt gave as a spoiler for the Francis report in February.
Hunt had forfended the Francis review's revelations about hospital deaths by declaring how he had instructed Keogh's office to make hospitals share patient data.
Quoted widely as part of his "paperless NHS" speech, Hunt said: "Today I can confirm that the NHS Commissioning Board have agreed that hospitals should be ready to share digital data from April 2014".
Computer Weekly spent days at the time trying to learn from the Department of Health and NHS Commissioning board what exactly had been mandated. They were not entirely sure. They insisted it meant all hospitals get working patient records systems in the space of a year. Then they back-tracked. The coalition government may have done an even worse job at kitting the NHS out with patient systems than the last lot had.
So scrub that, they said. What we meant was patient outcomes data: all hospitals must be in a position to share patient outcomes data by 2014.
But they already are. They already do.
The same bafflement serves as a suitable vantage to view the Keogh review. His position was predicated on a myth he continued to peddle when new regime started business this week: that the Mid-Staffs scandal was about hospitals refusing to give proper credence to his death statistics.
New regime
The precedent his data has since set – for Mid-Staffs, for Leeds, and perhaps also for Basildon and the others now under review – was false: false conclusions, drawn excitedly from data that was of limited use.
Yet that is the basis on which the NHS data regime has opened for business, thanks to the constant drip of scandalous interpreta tions of health data from Dr Foster, the company formed by Tim Kelsey, Keogh's compadre at the NHS Commissioning Board, and Professor Brian Jarman, Kelsey's colleague at Dr Foster.
Public outrage over the data regime's horrible founding fallacies has created space for it to change the rules. It has used that space to change the organizational meaning of data.
Thus the Commissioning Board has confiscated from hospitals the power to determine what their own data says about their healthcare, and how it should be acted upon. Keogh's rapid suspension of operations at Leeds, no matter how dreadfully mistaken, suggests how the new regime may wield the power it has taken.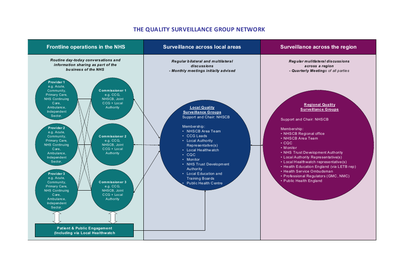 His team have crowned data the monarch of a new bureaucracy. That is became immediately so intoxicated by its power demonstrates how it was not suited to the job. The NHS Commissioning Board has nevertheless taken the power of data determination from hospitals and given it to a network of what it has called Quality Surveillance Groups.
These are regional bodies formed around a network of "consumer" groups called Healthwatch, and peopled heavily with representatives of health monitoring bodies and commissioning groups. They will pour over health data, encourage unhappy patients and relatives to pay court, and then they will make hospitals answerable to what they find.
"There will be a wealth of information and intelligence, gathered formally and informally, about the providers of services to that population," said guidance on the Quality Surveillance Groups, "Guidance to the new health system", in January.

"Often the information that one party alone has will not cause concern," it said. "However, when combined with intelligence that, for example, a regulator may have, [it] might point to a potential problem that should be investigated further," it said.
The focus of this work was not the NHS, but "a health and care economy", which is where we come perhaps to the purpose of all this bluster about data that was already being handled perfectly well by the NHS ecosystem.
Privatization
Private health providers being ushered in with the coalition government's NHS reforms must be able to convince "consumers" they are a viable alternative to the long-beloved NHS.
The quality regime will do this for a privatized health economy. It will provide a way for private sector upstarts to offer credible credentials. To understand how this will work, it is helpful to look at another emerging market that has sought to vindicate itself similarly.
That is the emerging market for cloud computing, where multinationals that might on any normal day be found lobbying against regulation, instead lobbied for it.
Their customers were comfortable with conventional outsourcing contracts, especially since offshore outsourcing had made them so cheap. Outsource suppliers became more interested in cloud computing because it promised high profits again. But they had to lure customers away. They tried to do this by subjecting themselves to a regime of quality and service metrics.
It had to be a common regime. They could all go about making claims about their service quality. But only by independent arbitration could they prove their case. So they sought to agree a common way of defining service level agreements (SLAs) and the key performance indicators (KPIs) by which customers held outsourcers to account.
Siki Giunta, vice president of cloud computing at US IT giant Computer Sciences Corporation (CSC), said why suppliers needed to do this in a speech she gave at an Outsourcing Association conference when the cloud business was still getting off the ground, on 10 November 2011.
"I can tell you, for the next 24 months in the cloud world, the hardest thing to do when we buy cloud is, 'What have I got, and how do I measure it'? Because everything is all over the place," said Giunta.

"The world of new guys and the world of traditional guys have to merge together and have common SLAs," said Giunta.

"Our biggest challenge is, how do we get a homogeneity of SLAs so that the customer knows that if he buys from me or somebody else, it is the same thing he's measuring?"

"We have to marry our existing customers – outsource customers that are used to having traditional SLAs – to a cloud environment. We couldn't just say, 'Forget these things you have over here'. We had to marry the same situation," she said.
The NHS may not have much to gain from a surveillance regime, when the system could already be trusted to make the best of health data. But the regime will be a great aid for the health economy.
Post-bureaucratic age
The misconceptions that established the regime are that the NHS cannot be trusted to its own data husbandry, that its hospitals are consequently fetid old death traps, and so all must be subjected to the reign of an omniscient data. It something like a sun God channelled so devoutly by its priests that its light burns and shrivels all it touches.
It is the opposite of the sort regime the open data priesthood and their compadres the coalition government had led us to believe they would bring about.
The data revolution was to be bottom-up, post-bureaucratic and owing a lot of chaos theory. Instead of bloody-minded top-down bureaucracy we would have self-organizing systems: organizations as organisms endowed with self-awareness by the power of data.
What we have instead is total surveillance, enforced by committee, with a tendency for sensationalist misinterpretations convenient to those who would like to bury the public sector.
All this effort to make data a merciless moral imperative may however have been better expended simply on improving the systems of reporting and dissemination at which the NHS was already very good. The only trouble then is that patient groups rendered stupid with outrage, and enemies of the public sector, might only create more trouble than they already have, using the more powerful tools available to them. At least with this surveillance regime they will be brought into the fold where they might be tamed.