CSC chief declares exit after scandalous year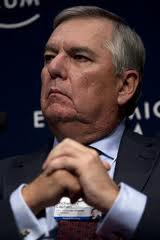 CSC chief Michael Laphen announced his retirement today after a year of unresolved scandals.
His statement followed reports of the resignation yesterday Carsten Lind, CEO of CSC Denmark, the centre of an accounting scandal that caused the Securities and Exchange Commission, the US competition watchdog, to launch an investigation in February.
Its share price had plummeted 40 per cent in the last year but rebounded briefly today on the news of Laphen's retirement.
60-year old Laphen became chairman, president and CEO in 2007 after 30 years at the company. He presided over a shake-up that led to nine of CSC's 10 executive directors being replaced, six of them last year. Vice president and controller Donald DeBuck is the only surviving executive who predates Laphen's taking command. Both were appointed executives in 2001, Laphen serving as president and chief operating officer. DeBuck served in various positions including temporary finance chief.