Why elephants never forget big data
Hortonworks is down at the watering hole, blowing its trumpet and enjoying a period of positive development.
Just in case you missed the elephantine reference, Hortonworks (named after the elephant in Horton Hears A Who!) is a commercial vendor of Apache Hadoop, the open source platform for distributed processing of big data sets across clusters of computers.
WANdisco party
First up, WANdisco has released its Non-Stop Hadoop for Hortonworks 1.5 version.
This technology provides the ability to schedule maintenance, perform imports of and provide admin functions for large data sets in large multi-datacentre Hadoop deployments.
"Non-Stop Hadoop for Hortonworks gives [data-centric developers] the ability to add or remove servers on-the-fly without interrupting user access," said David Richards, WANdisco CEO.
Meanwhile, on a cloud not so very far away, Rackspace has said that it is now also supporting Hortonworks.
The firm will now offer the Hortonworks data platform in both a managed hosting environment and on the Rackspace public cloud.
Easier cloud-based big data analytics for SMBs?
Here's the most interesting part, Rackspace customers will now be able to deploy a full Hadoop infrastructure (with support) through what will be a single commercial contract.
What this means is… with no upfront CapEx (Capital Expenditure) based investment, programming development analytics into data application landscapes could become more accessible and easier.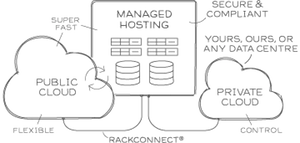 "The volume of data being processed in businesses today is astounding. Companies need help analysing and extracting value from this vast amount of information, as big data solutions are difficult to deploy and harder to maintain," said John Engates, CTO of Rackspace.
"We are creating a platform of capabilities that accelerates the adoption of open standards, while continuing to deliver expertise to the broader Hadoop community," said John Kreisa, vice president of strategic marketing at Hortonworks.
Rackspace says that its Cloud Big Data Platform (CAPS intended) features a "leading platform" powered by an Apache Hadoop distribution that customers can deploy and scale rapidly in the cloud.
NOTE: This is a fully featured environment powered by Apache Hadoop and capable of scaling elastically in minutes.
So what? For developers?
For developers the message is essentially that the firm is trying to tell us that this provides an open service model (powered by Apache Hadoop) that could foster an ecosystem of application developers… and therefore vendors.
Not that these two announcement (WANdisco and Rackspace) are connected necessarily, but positive momentum directed at two different (but inter-related) open source technology tangents is, generally speaking, positive news in the making.
Image credit: Rackspace