The 5 API cornerstones of ADE (API Development Environment)
Slightly cheesy with a dash of spin perhaps? But API (Application Programming Interface) development is now a real 'thing', so should we look more deeply into what API development involves? For real developers, we mean.

Download this free guide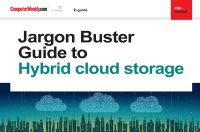 Jargon Buster: Hybrid Cloud
In this Jargon Buster guide we bring you definitions for the key concepts in hybrid cloud storage plus in-depth articles on hybrid cloud file and object storage, how to use the cloud as a storage tier and the key decision points when it comes to private cloud vs hybrid cloud.
The ADE (API Development Environment) streamlines the development process for API developers.
ADE, a new term created by Postman, is argued to be a logical extension of the IDE (Integrated Development Environment), which provides an integrated set of components to support software development within a User Interface.
The API workflow complements and overlaps with the software development cycle.
The company says that a strong ADE will integrate with software development at multiple points to provide these benefits and more in a single environment:
Testing & Debugging: ADE provides a single place to debug, create tests and scripts, and run automated tests over time.
Accurate API Documentation: ADE enables devs to maintain a single source of truth for the API as it gets updated and improved over time.
Collaboration & Version Control: ADE allows devs to collaborate in real time with effective access to version control.
Flexibility in Specification and Design: ADE captures multiple forms of existing API specs and allows creation of an API spec.
Ease of Publishing: ADE helps API publisher get their API in the hands of developers so they can onboard quickly and effectively.