Red Hat nibbled FeedHenry, now dines out on new mobile app platform... Samsung also eats
First the Earth cooled, then the dinosaurs died out and after that Red Hat got hungry.
The company clearly identified the need for more mobile platform intelligence within its IT stack and so back in Sept 2014 the firm acquired FeedHenry.
FeedHenry provides a cloud-based enterprise mobile application platform to design, develop, deploy and manage applications for mobile devices.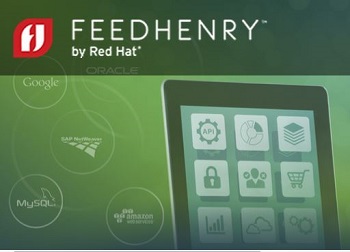 The specialism within FeedHenry is that it 'extends enterprise systems to mobile devices' while incorporating the scalability of cloud technology and, crucially the security of integrating apps with multiple backend systems.
Gastrointestinal integration
After the FeedHenry feeding frenzy, the firm has clearly had some time to ruminate, digest and process (Ed – can we keep this away from the gastrointestinal end of the spectrum please?) the technology it brought in.
This week can see the company introduce the Red Hat Mobile Application Platform, which (obviously) incorporates technology from FeedHenry.
But also… now inside the Red Hat stack, the sum is greater than the constituent parts because the new platform also incorporates intelligence from with products from Red Hat's JBoss Middleware and OpenShift PaaS portfolio.
The platform claims to offer enterprises 'a full stack' for mobile-centric workloads capable of being integrated with existing IT infrastructures.
The word from the VP
VP of mobile platforms at Red Hat is Cathal McGloin. He now claims that Red Hat is "one of the only companies" that can deliver and support the components needed to run the highly scalable workloads required by today's digital business – a big claim, indeed.
"The Red Hat Mobile Application Platform delivers vital mobile capabilities and secure, manageable integration with enterprise systems from a single, trusted provider of enterprise middleware, cloud, and mobile solutions [i.e. us, Red Hat]," said McGloin.
In more specific terms, McGloin explains that the Red Hat Mobile Application Platform is intended to accelerate the development (and integration, deployment and management) of mobile solutions by allowing collaboration across development teams including:
front-end application developers,
back-end IT integration,
and DevOps teams.
Red Hat also announced the availability of a developer offering in its public cloud application development and hosting environment, OpenShift Online.
Helwa! It's Hilwa
"This is an interesting development to see Red Hat rebrand and update its initial FeedHenry platform technology as it now continues to turn it fully into open source and integrate it with OpenShift. A strategic alliance with Samsung will push Red Hat's mobile platform and potentially other software into the enterprise in a more integrated fashion," said Al Hilwa, IDC analyst and program director for software development research.
Full support for the Red Hat Mobile Application Platform in production environments via OpenShift Enterprise is planned for the coming year.
The Red Hat Mobile Application Platform provides mobile capabilities that include security, reusable connections to back-end systems and collaborative/agile app development.
"In extending highly complex and sophisticated applications to mobile devices, Red Hat believes that the defining factors of the next generation of PaaS capabilities will be a rich set of middleware services. In bringing the Mobile Application Platform to OpenShift, Red Hat aims to position itself for this and further advance the Red Hat xPaaS services vision," said the company, in a press statement.
We care a lot
Staying true to its commitment to the spirit of open source, Red Hat also announced plans to help establish an open source upstream project that will carry the FeedHenry name and focus on the development of open source mobile technologies, which will include FeedHenry mobile application platform technology, open sourced by Red Hat.
ountries.
That Samsung reference?
The firms have just formed an alliance to further push mobile.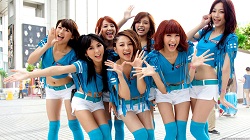 Samsung wallpaper girls from samsung-wallpapers.com — they really really like Samsung, a lot, no, honest.
"We are excited to collaborate with Red Hat to deliver the next generation of mobile enterprise applications and solutions and are committed to shaping the future of innovation," said Robin Bienfait, executive vice president, chief enterprise innovation officer, Samsung.
Bienfait wants us to know that Samsung "firmly believes" that strategic alliances with organisations such as Red Hat that will help businesses more readily adopt a mobile first environment."
Samsung Business Services and Red Hat plan to deliver:
Business applications: A series of enterprise-ready industry-specific mobile applications that will run on the Red Hat Mobile Application Platform and address key workforce management and business tasks, such as business intelligence, field and customer service, inventory management and sales catalog, pricing, ordering, and invoicing.
A developer ecosystem: Tools and resources to build and nurture a new ecosystem of enterprise partners and developers.
Support services: Integrated support for customers and partners, Enterprise Mobility Management (EMM), and global delivery and support services for the Red Hat Mobile Application Platform.
Business collaboration: Red Hat and Samsung Business Services plan to actively engage in joint go-to-market activities for the solutions developed through the alliance.