Puppet pulls strings on new DevOps tools
Open source software configuration management company Puppet used its colourfully named Puppetize Live event in San Francisco this month to detail a new product designed to help measure their software delivery performance and to benchmark progress.
Puppet Insights (currently in private beta) provdes what the company calls 'DevOps performance metrics'.
It is consists of dashboards and reports that claim to provide a bird's-eye view of the software delivery cycle.
Puppet CEO Sanjay Mirchandani also highlights the Puppet Discovery product — a tool, logically enough, devoted continuously discovering IT resources.
"New features available in the latest version of Puppet Discovery include OpenStack support; sophisticated filtering of hosts and packages; additional tasks for package management and running ad hoc commands," noted Mirchandani and team.
Additionally then, Puppet has a Vulnerability Remediation beta, to automate the process of detecting and remediating security vulnerabilities.
Vulnerability Remediation integrates with security providers — Qualys, Tenable and Rapid 7 — and provides a prioritised list of recommendations based on severity, and a simple workflow to install new packages across target hosts.
The company also updated Puppet's flagship product.
"Combining a remote, agentless offering with an ongoing agent-based solution, Puppet Enterprise 2019 offers the advantage of automating anything from anywhere and at anytime… and can extend changes across a team's infrastructure at scale," noted the company, in a press statement.
Finally from the newswires, the company detailed Puppet Bolt 1.0 — an agentless multi-platform automation tool.
The firm says that teams new to automation can quickly get started with no prerequisites or Puppet knowledge. In the latest release, users can apply existing blocks of Puppet code to remote nodes directly from a workstation. This enables users to take advantage of the more than 5,700 modules available on the Puppet Forge.

Download this free guide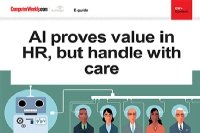 How AI is putting the 'human' back into Human Resources
Discover how the allocation of work by algorithm might have advantages for workers as well as employers, how AI is proving its value for HR and how data analytics is being used to support expansion and development.