Pizza Hut "topping" Android download charts
Android news website Appolicious Android news has reported that Pizza Hut's latest toppings include Reggae Reggae chicken, double pepperoni surprise and a number #1 position at the top of the Android App of The Week chart.
Beating medical app webMD, LinkedIn, PriceGrabber and even Firefox to gain the top slot, the now 53-year old brand has finally made it to the smartphone with an app that provides complete access to the restaurant menu — featuring as it does specialty pizzas, pasta, wings, drinks and desserts.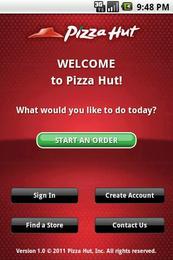 Pizza connoisseurs can create their own account for frequent reordering and there are special deals too for users that want to embrace this new purchasing channel.
Pizza Huts developer notes hasten to warn that this version of the Pizza Hut app is not yet supported on Android Honeycomb. The company also says that because the Pizza Hut App is "large", it is best to download it from Android Market or a Wi-Fi network.
Did they mean "large", or extra large with a stuffed crust?
Ordering functionality is for U.S. residents only to start with, but it is only a matter of time before this app is rolled out globally.
As for that garlicky, olive oil aroma that you get when you walk in through the door of a Pizza Hut? You'll have to supply that yourself!