Microsoft puts pedal to metal, joins Rust Foundation
Microsoft is joining as a founding members of the Rust Foundation.
Established as an independent organization to steward the Rust programming language and ecosystem and support Rust's maintainers (as the people who work to maintain Rust), the Rust Foundation champions performance, reliability and productivity.
Nell Shamrell-Harrington is a principal software engineer for Microsoft and also a board director at the Rust Foundation.
Noting that she first encountered Rust as an intriguing systems programming language on the Microsoft open source blog, Shamrell-Harrington says that any open source project – but, especially, a language ecosystem – is only as strong as its community of users and contributors.
"Open source software and languages are of critical importance both to Microsoft and to the entire tech industry. This is especially true for systems programming languages like Rust. As Rust usage in Microsoft grows, we know it is not enough to only use it as open source software. We must also contribute back to it. Joining the Rust Foundation is a way for us to financially support the project, contribute back to the project and engage more deeply with the Rust community," writes Shamrell-Harrington.
Microsoft is additionally forming a Rust team to contribute engineering efforts to the Rust ecosystem.
The company expects to be working with the Rust community on the compiler, core tooling, documentation and other areas of development.

Content Continues Below

Download this free guide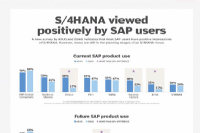 Infographic: S/4HANA viewed positively by SAP Users
SAP has recognised that customers will face challenges and costs when they upgrade to S/4 Hana. It has set out a roadmap to simplify integration, in a bid to lower the transition cost of moving from ECC to the S/4 platform. This infographic shows why most SAP users have positive impressions of SAP S/4Hana.